Manchester United full-back Rafael delighted to net vital goal against Liverpool
Rafael says the goal he scored in the 2-1 victory against Liverpool on Sunday was his best for Manchester United.
Last Updated: 24/09/12 3:49pm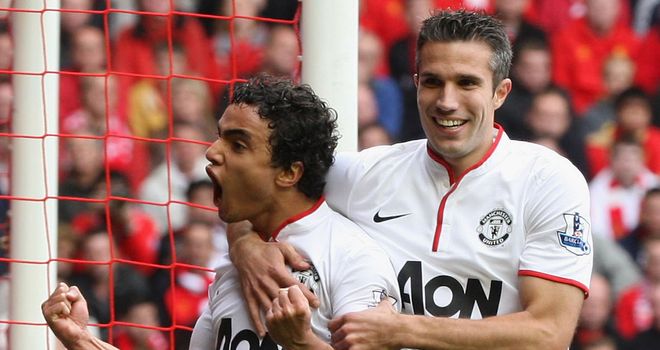 After five games without a victory at Anfield, United were again struggling, even against a side reduced to 10 men following the first-half dismissal of Jonjo Shelvey.
And when Steven Gerrard struck straight after the interval, it seemed the Red Devils' unhappy recent record on Merseyside was going to be extended.
Instead, Rafael curled home a superb equaliser, which allowed United to create the platform from which Robin van Persie eventually secured maximum Premier League points with a late penalty.
"It was an important time to get the goal," said Rafael.
"It was a good moment to get it because it was so quickly after they scored. If we hadn't scored then we might have got a little bit nervous."
Rafael added: "It's definitely the best goal I've scored for United.
"I have scored four goals for United now, one with my head and two with my left foot. Maybe I am better with the left."
United were below their best on an emotional afternoon following the recent report into the Hillsborough disaster, and Rafael was pleased to prevail 2-1.
"Both clubs have a great history and we had to respect that, then we got the three points, which is so good for us," said the Brazilian.
"It wasn't a great performance from us but in the last five years we haven't won here so we're very pleased.
"Robin van Persie had to wait a long time to take his penalty. It might make some people anxious but he is a top player and he found the net."