Jonny Evans hopes Manchester United can triumph in the Capital One Cup
Jonny Evans believes Manchester United can win the Capital One Cup even if Sir Alex Ferguson plays a young team.
Last Updated: 26/09/12 7:06pm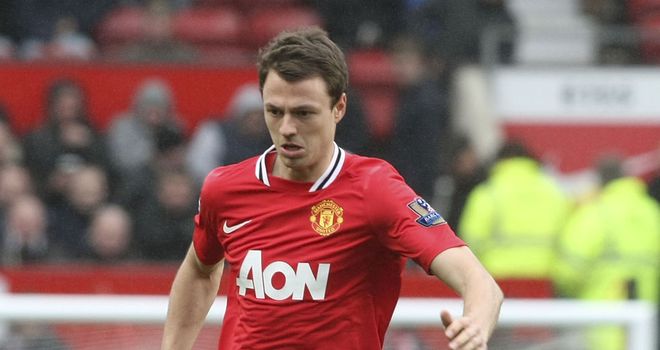 Ferguson is likely to rest a number of his key players for the third-round clash against Newcastle United tonight.
Plenty of changes are envisaged, although as Evans points out, that is no barrier to success, having been part of the team that reached successive League Cup finals in 2009 and 2010.
"We won it two years in a row by the manager giving younger players a chance," said the Northern Ireland defender. "It was the first trophy I had won with the club.
"He stuck with the players that time. It is a question of getting over the first couple of games. Before you know it you are playing to get in a semi-final. That ups the ante and gets you on the ball."
And Evans likes the look of England Under 19 international defender Michael Keane, twin brother of another highly-rated academy graduate Will, who is presently sidelined with a long-term knee injury.
"I have been very impressed with Michael," said Evans. "Over the past couple of years his brother has been getting more of the headlines.
"But I have been really impressed with Michael when he has stepped up into training with us. I can see him getting a bit of a run out if things go well."
As a former Sunderland player, any meeting with Newcastle has added interest for Evans, although surprisingly he has not played against them that many times.
"It is weird," he said. "I missed the derby and Newcastle is a ground I have never played at.
"They had a great season last season and have had quite a good start this time.
"They are a strong physical team and I am sure they will be putting out their best side."