Steffen Freund thinks Tottenham defender Steven Caulker could replace John Terry for England
Steven Caulker has been tipped as a possible England replacement for John Terry by Tottenham assistant Steffen Freund.
Last Updated: 25/09/12 6:01pm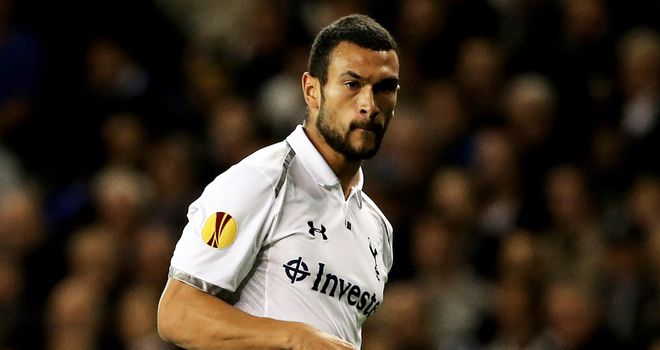 Terry, a veteran of 78 caps, announced his retirement from international football on Sunday, leaving a vacancy in the centre of England's defence.
Caulker, 20, who had a successful year on loan at Swansea last season, is yet to make a Premier League start for Spurs, but he was called up by England manager Roy Hodgson for the friendly against Italy in August.
"It's definitely possible," Freund said when asked if Caulker could replace Terry for England.
"He is similar (to Terry). He has already been called up for the national side and he's definitely one of best centre halves in England.
"He is like a rock in the defence, he's very tall and strong, and is difficult to beat in a one-on-one situation. He's very talented and wants to improve every game.
"John Terry was a great centre-half for England, everyone appreciates that, but Steven Caulker is maybe one for the future."
First start
Caulker is likely to be in Andre Villas-Boas' starting line-up at Carlisle in the Capital One Cup on Wednesday.
Several Spurs players from the team that beat QPR on Sunday will be rested for the trip to the League One side.
The victory over the Hoops was Villas-Boas' first win at White Hart Lane at the fourth attempt and his team did it the hard way, scoring twice halfway through the second half after being booed off at the break followed a dreadful first 45 minutes.
Many Spurs fans are still to be convinced the 34-year-old remains the right choice to lead the London club forward, but Freund, who was recruited by the former FC Porto manager this summer, is sure that Tottenham are heading for a bright future under their new boss.
"I'm sure we'll have success," Freund said. "I think it's good to remember his success at Porto, not just what happened at Chelsea last season. He won everything in his first year at Porto. He already has a lot of experience.
"I enjoy every day I work with him and his staff. Everything is very well organised. Andre always prepares the team fantastically. We know about Carlisle's last five games."
Bright future
Freund sees a lot more potential in the club now than when his time in north London came to an end in 2003.
The German, who was inducted in to the Spurs Hall of Fame in 2009, never finished above ninth in the league during his four-and-a-half year spell at White Hart Lane, and has been impressed with how the club have been doing in recent times.
"The club have played some fantastic football in the last few years and they finished fourth twice and fifth in the league once," he said.
"In my time we finished 10th or 11th. There is a lot of potential here."
Although he acknowledges the League Cup is now not one of Tottenham's main priorities, he still fondly remembers winning the competition in 1999 after beating Leicester 1-0 thanks to a last-minute strike from Allan Nielsen.
"It's a good memory because won some silverware but the game was awful if I'm honest," the 42-year-old said.
"But for me it was a dream to come over and two months later play a League Cup final at Wembley for a team as big as Tottenham.
"It was a fantastic experience to win that cup. But we have a different situation now because we have to handle everything with the Europa League and the Premier League too. It's not easy."