Chelsea happy John Terry could play against Wolves in the Capital One Cup
John Terry was only cleared to play for Chelsea in the Capital One Cup thrashing of Wolves hours before kick-off.
Last Updated: 26/09/12 1:03pm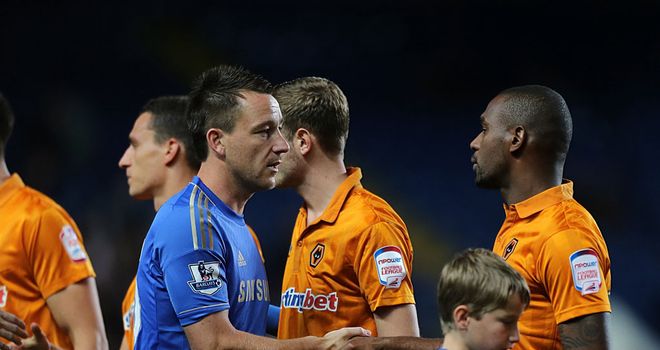 Newton insisted after Tuesday's 6-0 win at Stamford Bridge that manager Roberto Di Matteo - who he stood in for in the post-match press conference - always intended to pick his captain for the third-round clash.
But Newton admitted it was not certain he would be able to do until Terry was allowed home on the second day of his Football Association racism hearing.
The defender left Wembley at 1.15pm and asked when the final decision over his involvement against Wolves had been taken, Newton said: "This afternoon."
This evening's match appeared the perfect opportunity to rest Terry, especially amid his fight finally to clear his name over the Anton Ferdinand saga. Terry denies racially abusing Ferdinand.
But the 31-year-old's career has been one of defiance in the face of adversity and it was typical of the man that he wanted to play.
Newton denied Terry had specifically asked to be involved but added: "We wanted John to start. Obviously, with everything happening with the FA, we had to see how it panned out.
"We had a phone call (saying) he was making his way back from the FA nice and early, so it wasn't last minute.
"We'd covered all the bases, all the scenarios, and the best one happened."
Newton claimed Terry had not been adversely affected by facing an independent FA panel over the past two days as he attempts to clear his name once and for all.
"We've been talking to John and seeing what his mindset is," Newton said.
"He's been very positive and wanted to play, and do what he does for the team."
Newton added: "From knowing John, he's a positive person who loves the club.
"He's very enthusiastic about playing, just as he was as a young man. He just wants to play.
"He's been fine, dealing with the situation at hand, coming in and doing what he has to do at the club.
"We've been talking to him, Robbie [Di Matteo] has been talking to him, and he's been positive and upbeat. It wasn't a problem."
Terry was certainly not positive and upbeat on Sunday when he quit England with a parting shot at the FA for making his position "untenable".
Newton was prevented answering questions on that decision but admitted it could benefit Chelsea.
"The commitment of playing for your club and your country is hard," he said.
"It's hard physically and, the older you get, the more demanding that becomes on your body.
"If you want to play at the top level for as long as possible, at some point you're going to have to make a decision."
Terry's hearing will continue on Wednesday, limiting his ability to train ahead of Saturday's crunch Premier League game at Arsenal.
Newton said: "There are ways and means around it when it comes to training, after what he does at the FA.
"We'll work out scenarios, be in constant contact with John.
"The fitness coaches and medical staff will get around him and make sure he's prepared in the best way possible, as we always do."