Arsenal manager Arsene Wenger respects Andrey Arshavin for his commitment
Arsenal manager Arsene Wenger will give Andrey Arshavin the chance to impress in the Capital One Cup against Coventry.
Last Updated: 26/09/12 7:38am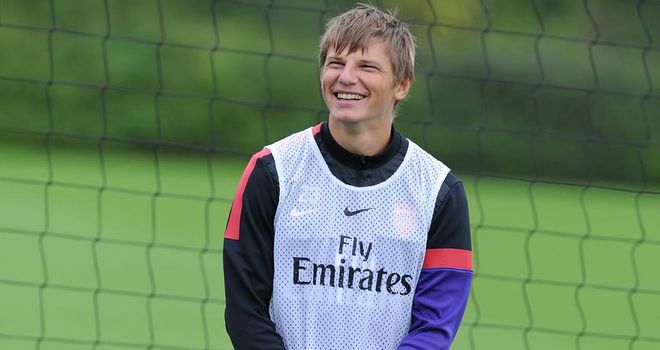 The 31-year-old Russia international has made just one substitute appearance this season, having returned from a loan spell at his former club Zenit St Petersburg.
Arshavin was expected to leave permanently in the summer but instead finds himself on the fringe of selection at the Emirates Stadium.
And while Wenger admits the winger is frustrated not to be playing he has hailed the player's professionalism and wants to give him some time on the pitch against the Sky Blues.
"I have personally a great respect for Andrey Arshavin because sometimes some wrong ideas circulated about him - that he doesn't care, but it's completely the opposite," Wenger told Arsenal's official website.
"He is a 200% professional who works every day very hard in training.
"At the moment he is a victim of the high level of competition that exists for places.
"I think he has a huge respect from everybody in the dressing room, and especially from the staff. We will give him of course some competition on Wednesday night."
Wenger added: "I feel he is unhappy he does not play because deeply he loves football and he practises every day with 100% commitment.
"I am happy to give him some competition on Wednesday night."
Arsenal have traditionally fielded sides packed with youngsters in this competition but there will be plenty of experience in the squad against Coventry.
The likes of Theo Walcott can expect to be involved along with Brazil international Andre Santos and Swiss defender Johan Djourou.
France striker Olivier Giroud will also be hoping to score his first goal for the club since his summer move from Montpellier.
But Wenger is more interested in the return of midfielder Emmanuel Frimpong who like fellow youngster Jack Wilshere has been a long-term injury victim for the Gunners.
The Arsenal boss said: "It is a big moment because he has suffered for a long time and has worked extremely hard, like Jack.
"He will be back for the first time on the bench. Ideally we should have waited a bit longer to include him again, but once you're back, you want so much a chance to be involved, so I want to give him a chance to be involved at least."
Wenger added: "Physically Emmanuel has never been as fit as he is now. That should come out in the next two months.
"You need some competitions and certainly he will be involved when we play at West Brom with the reserves, so that will be a game for him.
"He is ready to have a go, is a competitive boy and a fighter. Of course this type of player always wants to be involved."
Another looking to be involved is 17-year-old Serge Gnabry and Wenger admits he has high hopes for the young German.
"Serge Gnabry is a great hope for the future," he said. "I rate him highly.
"He is in the category of [Alex] Oxlade-Chamberlain and Walcott - guys who have great power, great pace, good dribbling skills, goal scoring potential and good vision as well for the final ball.
"He can play central behind the striker or on the flanks.
"If he continues his development, I think he could play this season in the first team, but at the moment he needs to work and ensure he remains fit."