Liverpool boss Brendan Rodgers praises Jamie Carragher and Jordan Henderson
Brendan Rodgers is happy to play Jamie Carragher and Jordan Henderson in the Capital One Cup at West Brom on Wednesday.
Last Updated: 26/09/12 8:14am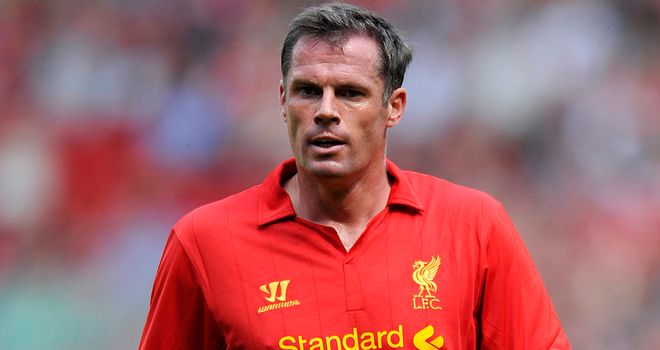 The Reds have failed to win any of their five Premier League games and return to the Hawthorns on Wednesday, the scene of a 3-0 defeat by the Baggies on the opening day of the season.
The Liverpool boss is set to resist the temptation to send out his strongest side and instead trust in the likes of teenage defender Andre Wisdom.
But Rodgers will have veteran defender Jamie Carragher on the pitch and he believes that is vital for the team's youngsters.
"It is critical," he told Liverpool's official website.
"The likes of Andre Wisdom look up so much to guys like Jamie Carragher, and to be on the same field as him and learning from his experience and leadership qualities is very, very important.
"Sometimes as a coach, you can coach players, you can talk with them, you can educate them, but when they go out onto the field, if they've got top players around them that can also help them manage the game from the inside.
"Guys like Carra are top class at that and, for me, your young players are only as good as your senior players."
Opportunity
There will also be a chance for midfielder Henderson who looks to be on the fringes of things at Anfield since Rodgers took over in the summer.
But the Liverpool manager has explained that he is a fan of the former Sunderland man and is happy to give him the opportunity to show what he can do.
"It is about the balance in the team," said Rodgers.
"We have got one controlling midfielder in Joe Allen. We have got Steven Gerrard, who is a great player and speaks for himself. Then we have got Jonjo who is a goalscoring midfielder.
"But Jordan is working his socks off every day. He has got a great appetite to learn, he lives his life right and he doesn't do stupid things off the pitch.
"Really it is just games like [tonight that] offer me the opportunity to see him.
"I see fire in his belly every day.
"He hasn't played quite as many games as he would like this year but he gets the chance, not just in the games but every single day to show that he has got the qualities to play in this team."