Jack Cork will return stronger from injury, says Southampton boss Nigel Adkins
Southampton boss Nigel Adkins has backed midfielder Jack Cork to bounce back stronger from his latest injury setback.
Last Updated: 27/09/12 9:19pm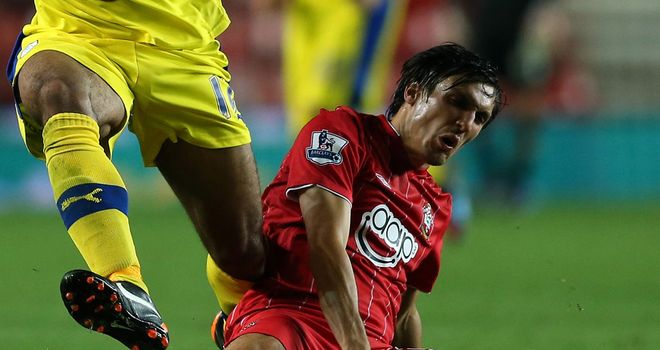 Cork, 23, says he could be out for up to six weeks with a damaged knee after limping off in the final stages of the Saints' 2-0 League Cup victory against Sheffield Wednesday on Tuesday.
He was making his first appearance of the new campaign as he continued his comeback from an ankle injury sustained in a pre-season friendly against Bristol City.
"Another four to six weeks, with my left knee," Cork said on his Twitter account.
"Luck's not just going my way this season. Could be worse, but was so close to getting back from the ankle."
Adkins has sympathised with the ex-Chelsea player, who missed most of newly-promoted Saints' pre-season programme after representing Great Britain at the London 2012 Olympic Games.
"It has been stop start for him," he said.
"It is a good place at Southampton so we'll keep his spirits up, he'll work harder and then when he comes back he will be raring to go."
Former physio Adkins added: "Obviously he has been away with GB through pre-season so he has not had a pre-season with ourselves.
"He comes back, he didn't play any games really and he picks up an injury at Bristol City.
"He recovers from that and he has gone and picked up another injury. What it will do is make him stronger.
"He is going to be in a brace for a couple of weeks. Who knows if four to six weeks is going to be realistic?
"I know the diagnosis of it with the history I've got and the experience I've got of these injuries. We've got a good idea of what it is going to be."