Manchester City goalkeeper Joe Hart is staying positive despite the club's faltering start
Man City keeper Joe Hart is staying optimistic despite the Premier League champions' stuttering start to the season.
Last Updated: 29/09/12 2:35pm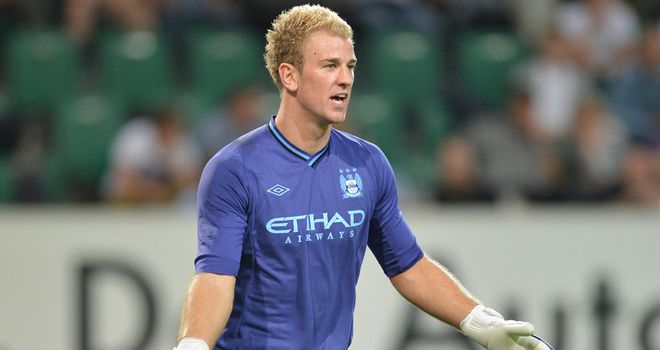 City are currently without a win in four games in all competitions, marking their worst run since the appointment of Roberto Mancini in December 2009.
Mancini's men, who have conceded 14 goals in their seven games so far, sit four points adrift of leaders Chelsea in the early league standings ahead of Saturday's trip to Fulham.
Hart knows luck has not been going City's way but is confident things will improve.
"Sometimes goals go in against you," he told the Daily Mirror. "That's football, isn't it?
"Things have been falling to people, like the one in the 1-1 draw against Arsenal.
"Joleon (Lescott) headed it away and he (Laurent Koscielny) smashed it in. That's the way it is.
"It could have hit the bar and we would have kept a clean sheet.
"So we have to be optimistic. We know we're doing the right things and we're tried and tested."
Honest
He added: "I'm being honest when I say that I really don't know [why City are conceding so many goals].
"We're not doing anything different and the players are very honest."
Hart believes pressure on City to win the title is just as intense as it was last season but is ready for the challenge.
He said: "We haven't had the start we had last year but, then again, we might not have the January we had last year (when City struggled).
"It was hard to win the title and this is my first attempt at trying to defend it.
"It's going to be tough, but then again it was ridiculously tough last time.
"It's not a different pressure, it's the same pressure we've always put on ourselves, that inside pressure that pushes us forward."