Sir Alex Ferguson urges Manchester United defender Rio Ferdinand to quit England
Sir Alex Ferguson wants Rio Ferdinand to forget about an England return and concentrate on Manchester United.
Last Updated: 30/09/12 6:10pm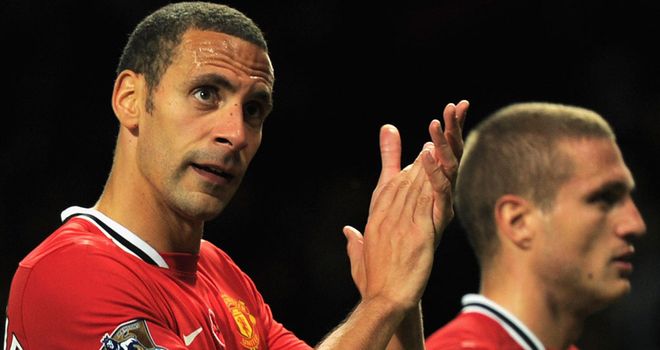 John Terry's decision to quit international football has raised the prospect of a recall for the Red Devils centre-half, who missed out on Euro 2012.
Ferdinand has continued to make himself available despite that snub, which Roy Hodgson maintains was for "football reasons" and nothing to do with the court case involving Terry and his brother Anton Ferdinand.
But Ferguson reckons international retirement would help prolong the 33-year-old's Old Trafford career.
He said: "Rio could do the job for England, there's no doubt about that, but I don't see why he should.
"He should concentrate on his career here, that's what I'd prefer. If he looks after himself there is no reason why he can't play on."
Ferguson has questioned whether Ferdinand is even interested in a return to the England team, but insisted that the veteran remains in his plans for next season and beyond at Old Trafford.
Experience
He said: "I don't know if that is actually correct. Has he a long-term future beyond this season? Yes. Giggs and Scholes are still playing.
"If he looks after himself - and he's doing that well now - managing the situation with his back, then there's no reason he can't play on.
"Rio is using his experience now whereas six or seven years ago he had such a great change of pace.
"Now he can't do that. Everyone loses their pace as they get older. Rio's using his experience to compensate for that. He's not taking any chances now.
"He's also very good with young players. He's got a good manner with him in terms of the younger players. He is well respected."