Olivier Giroud confident of scoring regularly for Arsenal
Arsenal striker Olivier Giroud is confident that he will break his duck in the Premier League sooner rather than later.
Last Updated: 05/10/12 10:20am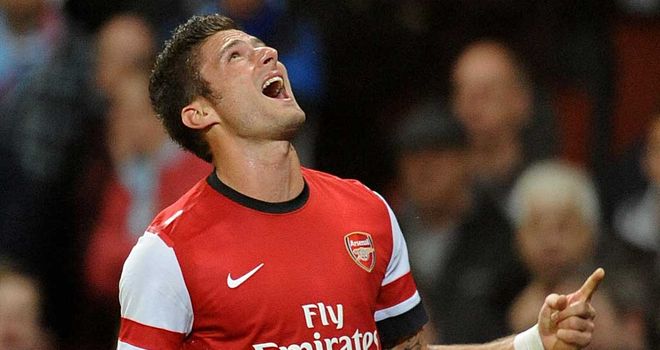 The 26-year-old has yet to find the target in six league appearances for the Gunners so far this season.
However, Giroud, who moved to the north London club from French champions Montpellier in the summer, remains defiant that he will prove himself at the Emirates.
"I need some time to get confident and to keep going," he is quoted as saying in the Daily Telegraph. "Thierry Henry, he scored only in his ninth game, so it is a good example.
"For strikers it is quite difficult to adapt to the Premier League.
"It's like when you score one, you take confidence and more trust, so you know it is like that. When you are a striker you need to score but I am not worried.
"The boss [Arsene Wenger] trusts me and my team-mates too and our fans too. It is very important to me to feel the support, of people and my team-mates too.
"I tried all that I can but sometimes you need to keep the faith, to keep going. When you are a striker, sometimes it is difficult. I think I am a little unlucky.
"People tell me the goals are coming soon, don't worry, we trust you."