Arsenal defender Kieran Gibbs believes Arsenal are back on the front foot
Kieran Gibbs felt it was important Arsenal reacted to their first Premier League defeat of the season.
Last Updated: 05/10/12 10:33am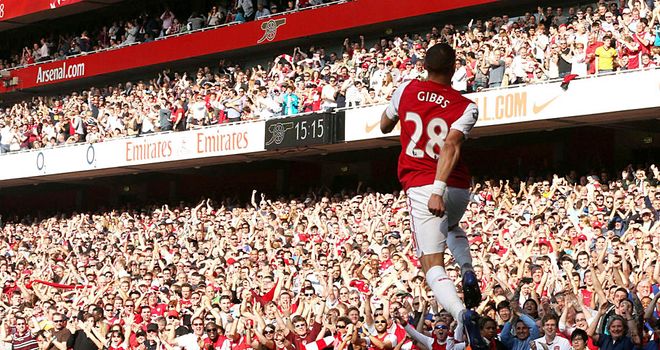 Arsenal recorded a 3-1 victory over Greek outfit Olympiakos at the Emirates Stadium in the UEFA Champions League on Wednesday night.
Gibbs now feels they can head into their next game, against West Ham United on Saturday, in confident mood.
The full-back said: "It was important to bounce back after a defeat at home.
"We wanted to shake off a few doubts in our mind that we had. We certainly did that and we're back on the front foot now."
Meanwhile, Wales international Aaron Ramsey believes the 'British spirit' to be able to grind out results is helping Arsenal.
Gibbs, Alex Oxlade-Chamberlain and Theo Walcott, who have all earned call-ups to the England squad for the upcoming World Cup qualifiers, are among a strong British core at the club.
Ramsey said: "It's good to see there are a lot of British players coming through.
"It's good to have that in a team in England as well, to have that British spirit because sometimes you have to be able to grind out results.
"We had a disappointing game at the weekend but we reacted well which is important and hopefully we can go on a ruin again."