Everton boss David Moyes says his Champions League side are still the best
Everton boss David Moyes still feels his team from 2004-05 are the best he has had at Goodison Park.
Last Updated: 06/10/12 8:06am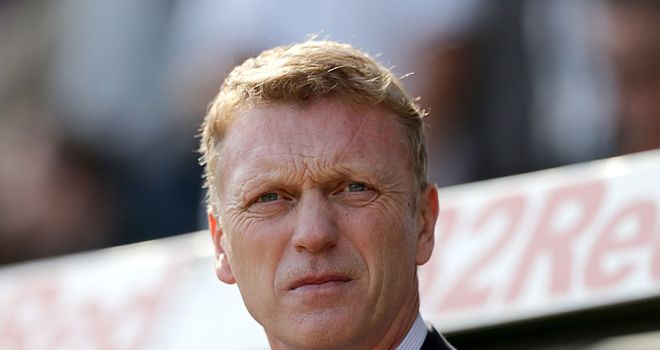 Following their 3-1 win over Southampton last weekend, the Toffees are second in the Premier League table with 13 points from their opening six fixtures.
That haul is the club's best from six games at the start of a campaign since they did the same eight years ago - and that term they went on to secure a place in the Champions League qualifying rounds by finishing fourth.
That Everton team remains unparalleled within Moyes' 10-year tenure as far as the Scot is concerned, and while delighted with the way things are going right now, he has stressed that it is only after the full duration of this season that he will be able to properly judge the standing of his present group.
"I would agree that we are in good form, but I think the year that we got to the Champions League, that was probably the best team I've had because of what they achieved, and more importantly, that they did it week in and week out," Moyes said.
"It's okay saying that you are in good form, but we've only played six games in the Premier League.
"What we have to talk about is what those boys have done after 38 games in the Premier League.
"We're in form just now, but let's see if they are consistent and keep it going for the rest of the season."
Everton travel to Wigan on Saturday, who by contrast have already suffered four league defeats this term.
The form guide suggests an away victory is on the cards, but Moyes is not about to underestimate a Latics side he feels manager Roberto Martinez has done a "brilliant" job with over the past few years.
"The statistics are easy to say, but I have to say that every Premier League game is really tough - I've not found one of them which is easy," Moyes added.
"Every game is very close and I think Wigan are a decent team, I really do. Roberto has done a brilliant job and that is why he has been linked with different jobs - because of how people see the job he has done at Wigan."
"
Meanwhile, Moyes has been keen to emphasise that while Everton support their winger Steven Pienaar's decision to retire from international football, the club put no pressure on him to make it.
It emerged earlier this week that Pienaar, 30, had opted to bring an end to his South Africa career and speaking about the matter, Moyes said: "We never discourage players from playing for international teams, not ever.
"I think it is good, especially for a club like Everton, to get as many international players as possible.
"So from our point of view, Steven retiring was nothing to do with us whatsoever.
"It is his own decision and choice. He has got a little bit of a problem with his groins which he has to keep right now.
"It was his own decision and we support him totally if that is what he chooses to do."