World Cup: Scotland not under pressure to select returning striker Steven Fletcher
Steven Fletcher's international U-turn does not mean he will be guaranteed to walk back into Scotland's first team.
Last Updated: 08/10/12 6:31pm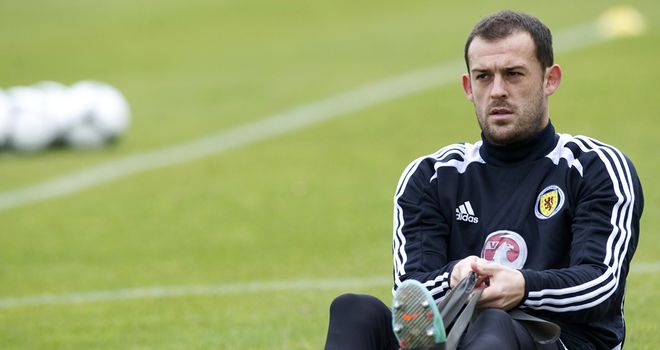 Following a recent meeting with Craig Levein, the Sunderland striker ended his international exile which began in February 2011 when he informed the Scotland camp by text he did not want to be considered for selection.
Houston claimed there was 'no resentment' within the squad to Fletcher's change of heart, a sentiment echoed by midfielders Scott Brown and Charlie Adam.
And speaking at Scotland's Mar Hall base on the outskirts of Glasgow, the Dundee United manager, ahead of the World Cup qualifying double-header against Wales and Belgium, was also asked if there was now pressure to play Fletcher.
"Absolutely not," he replied. "Why would we feel pressure? It is a squad game. You pick a squad then you pick a team. You have two games coming up.
"I haven't spoken to the manager regards whether he is going to play or not. I think the biggest thing at this early stage is making sure everyone is fit.
"It might be that he is picked in two games, it might be that he is picked in one game, he might not be picked at all. It is something that has not been discussed.
"But to say there is pressure, then I would say no."
Houston dismissed any notions there might be some players who will be disgruntled at the return of Fletcher, who has scored five times in five Premier League games for Sunderland.
"There will be no resentment," he said. "This is a group of players and we will go with the best team we can get to try to win us a game.
"Steven has mixed in like he did the previous times. He has been welcomed back and it is nice to see him back.
"He is a top striker and we need every player we can to get good results so we are delighted he is here."