Everton boss David Moyes delighted to win Manager of the Month award
Everton boss David Moyes hailed his players after landing the Manager of the Month award for September.
Last Updated: 09/10/12 2:14pm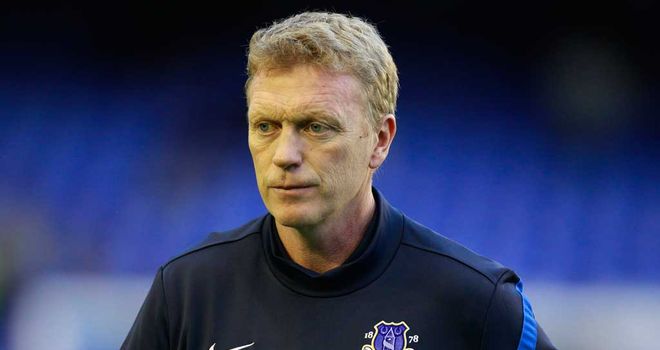 Moyes took the accolade after leading Everton to fourth place in the table, including wins over Swansea and Southampton.
It is the ninth monthly prize Moyes has won and he believes the squad deserve a lot of credit for the success.
"I am really pleased as with all these awards it comes as a team thing, something the whole team have strived to get," Moyes told Sky Sports News.
"We have had a good start to the season with August and September so it's big thanks to Barclays for awarding me this monthly award."
Moyes is refusing to get carried away by Everton's impressive start to the campaign, believing it is too early to make any judgements.
"We tend not to start to well and I wanted us to get off to winning a few games as we have tended to come stronger later on in the season," added Moyes.
"I say it carefully that I see ten games as a start and it is only six or seven games at this moment in time.
"The players have played really well and been in good form.
"There have been some outstanding performances from people like Jelavic, Marouane Fellaini and Leighton Baines. A lot of those players have contributed in a big way to us getting this award together."
Moyes believes doing his transfer business early has been the key to Everton's flying start this season.
"People have asked me like there has been a big change, or we have done something differently," continued Moyes.
"Every year you try to do things right and get off to a good start. The year we had a good start we qualified for the Champions League and we have been trying to get back to that.
"We have tried doing the exact same things but you need a bit of luck and you need good players.
"Importantly, we had most of our recruitment done early and that gave me a chance to go into this season with a few added to the team that finished last season."
Everton have been tipped as possible contenders for a top-four finish and Moyes admits he has set his sights on qualifying for the Champions League.
"With the quality of the Premier League it is really hard to qualify for the Champions League but I wouldn't say we can't do it," noted Moyes.
"It is possible and you have to aim for that.
"If we fall short and end up in the Europa League then so be it, but in recent years we have been pretty close, finishing sixth, seventh or eighth, so we want to do that at the very least."