Everton midfielder Phil Neville has revealed that he wants to be a manager after he stops playing
Everton's Phil Neville has announced that he plans to move into football management after hanging up his boots.
By Daniel Storey
Last Updated: 10/10/12 10:12am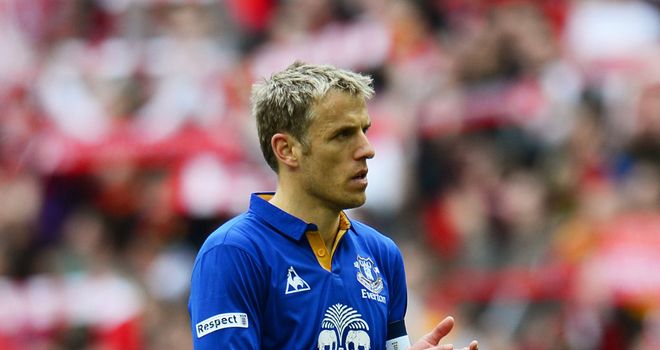 The veteran Everton midfielder revealed that he had already gained experience of coaching with Stuart Pearce's Under 21 squad, and Neville has stated that the involvement had given him the desire for a more permanent transition.
Neville is also resolute that he will not attempt any shortcuts to success, and believes that St George's Park, the Football Association's new National Football Centre, will assist ex-professionals to learn their craft and earn their badges before stepping into full-time coaching roles.
"The bottom line is, I want to be a coach. I want to be a manager," Neville told the Daily Telegraph.
"That's my love. I spent three days with the England Under 21s over the summer and it was the best three days I've had in football. It inspired me.
"It made my mind up: I want to become a manager, definitely.
"I'm not going to make the mistake of thinking I can become a manager without having done everything possible beforehand to learn, study and get my badges."
Neville, 35, currently has a deal with Everton until the end of the season, but has spoken recently regarding hopes to extend that further.