West Ham have confirmed they still want to become tenants of the Olympic Stadium
West Ham United have confirmed they are still fully committed to become tenants of the Olympic Stadium.
Last Updated: 11/10/12 7:13am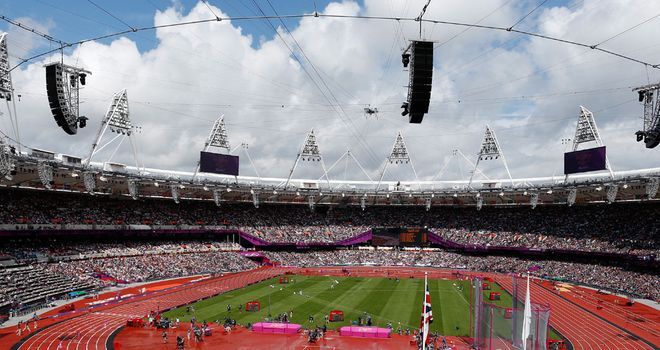 The applications to take over the Olympic Stadium restarted last year after legal challenges from both Tottenham and neighbours Leyton Orient prevented West Ham from buying the stadium in conjunction with Newham Council in 2011.
Nevertheless, despite their failure to buy the stadium - the Hammers want to become main tenants at the Stratford site for the start of the 2014-15 season.
However, reports claim the Premier League club are at loggerheads with the London Legacy Development Corporation (LLDC) over changes to the stadium including retractable seating which would cost around £160million - but West Ham remain positive.
In a statement, West Ham said: "It is now 20 months since West Ham United were initially named as the preferred bidder to occupy the Olympic Stadium post-Games. We are obviously disappointed, that three bids later, a decision has yet to be reached.
"We do however remain fully committed to becoming the catalyst to galvanise the Olympic Park by bringing people, jobs and a robust and sustainable commercial offer that guarantees a return to the taxpayer of the money already invested."
LLDC chief executive Dennis Hone has indicated that should a decision not be reached by the next board meeting later this month, then the matter could be pushed back towards the end of the year.
"If we can't come to a conclusion, in the scheme of things if it slips another month or two I would rather get the right solution. Yes, the stadium is tricky, but it's tricky because we want to get it right," he said.
"I would hate to bung someone in there and see it fall apart in five years. If it takes a couple of extra months to get there, then so be it. We have had discussions with all of the bidders.
"The difficulty is that we are balancing the adaptations we have to make to the stadium against the proposals that have come in and the benefits - financial and otherwise - that those proposals bring. If it was a knockout [verdict] it would be an easy decision, but it's not."