Ben Foster full of praise for West Bromwich Albion new boy Claudio Yacob
Ben Foster has hailed the impact made by West Bromwich Albion's summer signing Claudio Yacob.
Last Updated: 11/10/12 9:23pm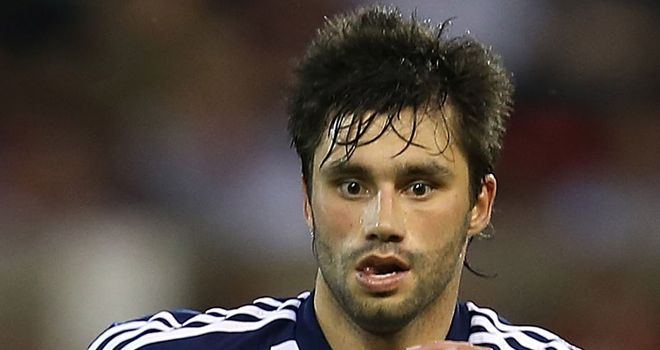 Foster admits to being unaware of the Argentina international's qualities when he arrived at The Hawthorns from Racing Clu de Avellaneda.
It has not taken long, though, for the midfielder to make his mark in England, with the 25-year-old having gone about his business in an understated but much-appreciated manner.
"He's amazing," Foster told West Brom's official website.
"I'd never heard of the bloke. I'm not disrespecting him but I didn't know anything about him. I'm not the biggest football fan in the world anyway - but he's not someone I'd come across.
"He came into training on the first day and he's exactly like he is now. He doesn't say a word, he comes in and just opens up and smashes everyone in training.
"He's a little live wire. He's that guy in front of you that, if the opposition break on us and we look like we might be a bit exposed, gets the tackles or blocks in.
"It's great when you have someone like that - it's dependability really. He's Mr Reliable. You know you can count on him at any given time - that's how he started the season and how he's continued."
Foster has been impressed by the partnership Yacob has already been able to strike up with Youssouf Mulumbu in the West Brom engine room.
"Him and Youssouf have got that central midfield nailed down," added the Baggies keeper.
"They are the same. They are so calm and know how to pick passes out.
"Youssouf will do his usual, stick his big backside out so everyone has to roll around him.
"It's great to watch - both are so calm under pressure - and Claudio's passing is brilliant.
"He's fantastic to have and he's got a bit of South American temperament about him - he's certainly not afraid to put his boot in. He's full-blooded, even in training.
"He's a huge addition to the team and it's amazing to get someone like him, but he's just one of a few gems we've found - people like (Gareth) McAuley, a free transfer from Ipswich, Billy Jones, another free transfer, they are finding these players from somewhere."