Manchester United's Nemanja Vidic wants Premier League and Champions League glory
Nemanja Vidic says Man Utd will learn from last season's mistakes and can win the Premier League and Champions League.
Last Updated: 14/10/12 2:44pm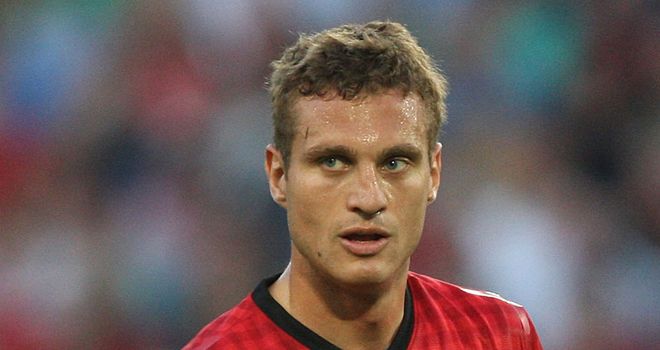 While the Red Devils only narrowly missed out on domestic glory to Manchester City following a dramatic final day, they bowed out of continental competition surprisingly early.
Vidic says a number of factors contributed to their European downfall, but is confident of fulfilling an ambitious double target this term.
"Our aim this season is to win both the Premier League and Champions League," the Serbian, currently sidelined following knee surgery, said in the Daily Star Sunday.
"We had a disappointing campaign in Europe last season but I think this year will be different. We will learn from the mistakes of last year when we relaxed too much.
"Maybe we had become too complacent because we always seemed to automatically get past the group stage.
"That mentality cost us. We also had injuries - including my own - and we had a lot of younger players who were adjusting too.
"But now the younger players are a lot more experienced, and hopefully we will now have better luck with injuries."
Skilful
Vidic has been impressed by the way United's summer signings have adjusted to life at Old Trafford, particularly Shinji Kagawa following his move from Borussia Dortmund.
"It's a big job for a young player to come to United and be expected to perform every week," said Vidic.
"It's not enough to play one great game and just be happy with that.
"You have to perform in every game, week after week. I think the players we have now can do that.
"And the new players like Shinji are settling in well. He is very skilful and always wants to be involved."