Santos director says the club are still big admirers of AC Milan's Robinho
Santos director admits AC Milan's Robinho is 'an idol' at the club amid ongoing talk linking him with a return.
By Paulo Freitas & Nadia Carminati
Last Updated: 15/10/12 11:03am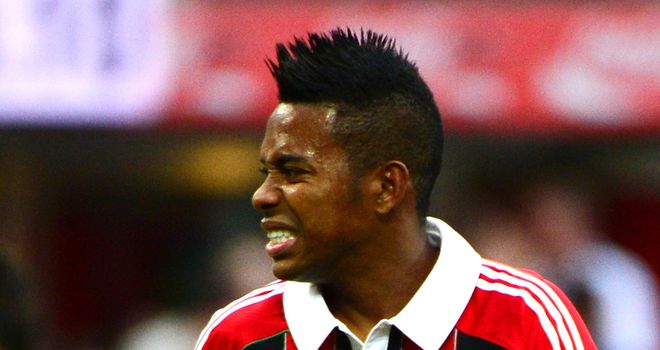 The 28-year-old was tipped for a comeback at the club where he started his career in the summer but no move materialised.
Pandolfo has indicated Santos are still big admirers of the Brazil international, who also spent a loan spell at his native club from Manchester City in 2010.
He told ItaSportPress: "Robinho? He's an idol for us."
Robinho insists he is happy in Milan but admits he still has an affinity with the side where he began his playing days.
"I don't know if Santos would really make an offer for me," he told Gazzetta dello Sport. "They were my first side and I have a good feeling with them.
"But I like talking about the present and I'm happy to be at Milan, because they make me feel important."
Slow start
AC Milan have started the Serie A season slowly to sit 11th in the table but Robinho is confident they can compete for the title.
He said: "You can tell me that I'm a fool, but for me it isn't foolishness thinking that Milan could win the scudetto. We have the team to do it."
Robinho also gave his backing to coach Massimiliano Allegri and believes he will pull the Rossoneri through their shaky start.
"I see him as I did before," he added. "I'm sorry that he has to live in a period full of rumours about his future. He's a great coach.
"Things soon change in football. Once we have done well in a few games, it will be okay."