Republic of Ireland boss Giovanni Trapattoni says he is not fearing the axe
Giovanni Trapattoni has insisted he does not expect the game against Faroe Islands to be his last as Republic manager.
Last Updated: 16/10/12 7:00am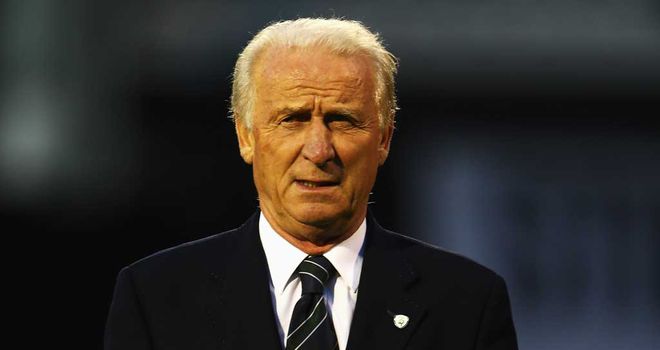 The Italian's pre-match press conference ahead of the World Cup qualifier in Torshavn was dominated by the debate over his future, with one report claiming he will be relieved of his duties by the end of the week whatever happens at the Torsvollur Stadium.
His position has come under fresh scrutiny following Friday's 6-1 defeat at home to Germany, while preparations for the next match have also been disrupted by stories of a bust-up between Stephen Kelly and assistant manager Marco Tardelli.
Asked if he expected the clash with the Faroes to be his last as Ireland manager, he replied: "Absolutely not.
"I ask you why? We have started the qualifying campaign and we have lost one game to Germany. There is no reason."
Asked further if he still believed he had the support of the Football Association of Ireland, he said: "When they are sure, they have to decide, not me.
"I have crossed the Alps barefoot and I have overcome many difficult situations in my career.
"Every manager has moments when he loses. After the Euros, we have lost only one game to Germany, the second team in the world. It's no problem."
Criticism
Trapattoni revealed he had had no contact with FAI chief executive since the debacle at the Aviva Stadium on Friday night which proved the final straw for many, and there was no comment from the association over the claims that the end-game is already underway.
However, asked if he expected to see out his contract, he admitted that decision may not be his to make.
He said: "I don't know. Game to game, we can show the results we have achieved, but it's not me who will decide. Until now, we lost one game. Why change immediately after Germany?
"I can ask you all, why change immediately your opinion? We lost one game against Germany, and we were missing six players from the Euros.
"Why I have to discuss it, I don't know. My job is to overcome the criticism. Every 90 minutes is 90 minutes.
"I accept the criticism. We played badly and they (Germany) were very, very superior."