Vito Mannone believes Arsenal can mount a challenge for the Premier League
Arsenal goalkeeper Vito Mannone is confident the squad will be challenging for the Premier League this season.
Last Updated: 16/10/12 12:46pm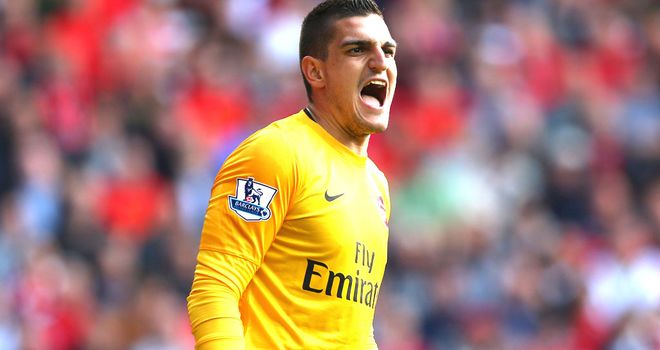 The Gunners are currently seven points behind leaders Chelsea, having already lost to their London rivals and drawn with reigning champions Manchester City.
Mannone believes Arsenal's form this term has been positive, especially in the Champions League where they have full points from matches with Montpellier and Olympiakos.
"The team is doing great, we have had big games already," Mannone said.
"We had a few good wins and a few draws away, and not many other teams will get draws at Man City or a win at West Ham. It is not easy to win at Liverpool, as well.
"We have started the Champions League well too. The team has got a good base to kick on from. I am looking forward to some big achievements.
"We have a good solid squad and I think we can go for it. I have no doubt that if we keep our focus and we keep our mentality, it's not a doubt that we are going to challenge for the title."