Roberto Mancini does not believe Yaya Toure wants to leave Manchester City
Manager Roberto Mancini has dismissed the latest suggestions that Yaya Toure is looking to leave Manchester City.
Last Updated: 19/10/12 11:56am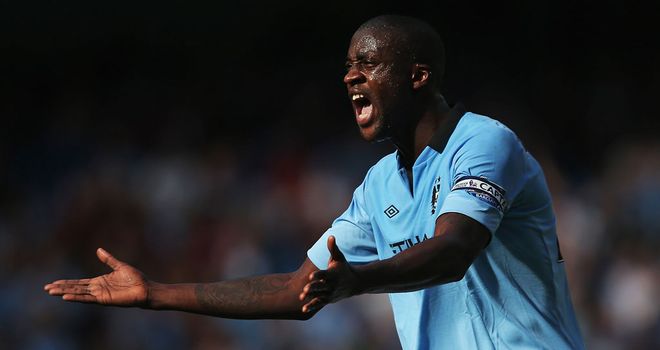 The Ivorian's agent said earlier this week that the 29-year-old was looking for a new challenge, having already helped City to secure three pieces of silverware.
Mancini said: "Every day we have a new challenge here. In two-and-a-half years we won the FA Cup, the Premier League, the Community Shield.
"Now we need to win other cups and other Premier Leagues. We need to work more for this challenge. I think Yaya thinks like me and the other players.
"I am happy Yaya wants a new challenge, I also want a new challenge. I want to win the next game, then the next game in the Champions League. We want to do everything together."
The Italian did welcome suggestions that Toure may decide to sit out next year's Africa Cup of Nations, with a slump in City's form last term coinciding with his departure for the tournament.
Mancini said: "I didn't speak with Yaya about this. Hopefully we will speak in the next week. I hope he stays here but I don't know."
Meanwhile, the City boss also said he expects playmaker David Silva to be back in action in time to face Swansea next weekend after he sustained a hamstring injury on duty with Spain.
Mancini said: "He is not ready for Saturday (against West Brom), and will not be for the Champions League (against Ajax), but we hope for the next game against Swansea."