West Brom goalkeeper Ben Foster one of the world's best, says boss Steve Clarke
Steve Clarke has put West Brom goalkeeper Ben Foster in the same bracket as some of the world's best in that position.
Last Updated: 20/10/12 1:39pm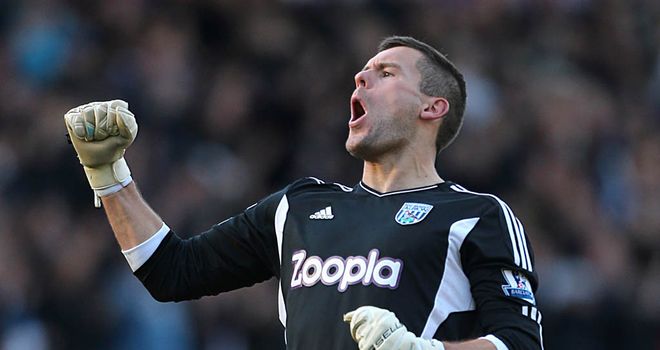 Foster's opposite number at Manchester City, who visit the Hawthorns on Saturday afternoon, is Joe Hart and he has been named as the best in the business at the moment by Wayne Rooney and even Foster himself.
But West Brom manager Clarke has favourably compared Foster to some of the goalkeepers he has worked with as well as Hart.
"Joe Hart's the best goalkeeper in the country because he plays for England," said Clarke. "But Ben Foster is the best goalkeeper in the world in my opinion - because he plays for me.
"I have worked with goalkeepers like (Petr) Cech and Pepe Reina and Ben is right up there with them.
"He's slightly different, you'd say Petr was a real good technical keeper, Ben's a little more unorthodox.
"Yet he makes saves that maybe Cech wouldn't make. He's not a normal goalkeeper and has different ways of saving the ball.
"The bottom line is that he keeps the ball out of the net, and that's a great gift."
Foster has refused to be considered for England since May in 2011, a decision Clarke says has paid dividends for West Brom.
"It's a great decision for the club and a great one for Ben as he seems really comfortable in himself.
"He's certainly got the talent to play for England if that's what he decided to do.
"But he enjoys the international breaks when he can spend a bit of time with his family rather than being dragged all over the place.
"And in the summer he gets a chance to recharge his batteries properly instead of going to a major tournament."