PFA chief executive Gordon Taylor admits he fears implosion over racism row
PFA chief executive Gordon Taylor fears the current divide could set the anti-racism campaign back years.
Last Updated: 23/10/12 4:36pm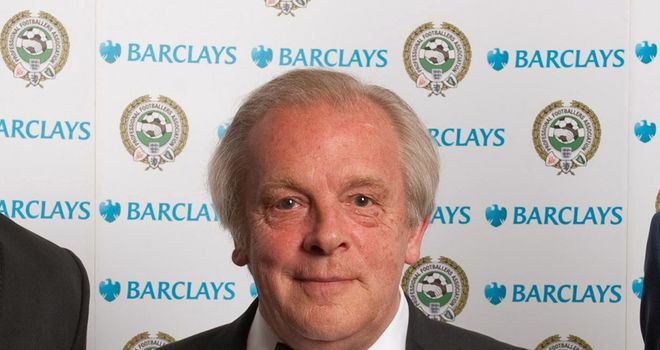 After refusing to support the Kick It Out campaign at the weekend, there are now suggestions that the likes of Rio Ferdinand and Jason Roberts could form their own union to tackle the problems
That's a situation that concerns Taylor as he claims the breakaway group are misguided if they believe they can achieve more on their own than as part of the negotiating process.
"I feel we are imploding,'' Taylor told the Daily Telegraph. "The longer it goes on, the more divisive it is becoming.
"We have black player against black player, different views of Glen Johnson, Ashley Cole, Rio Ferdinand. I just feel it is time for cool reflection on their behalf. Above all, don't let it divide us.
"If they want their own particular select group who they feel they can influence everybody more than the whole PFA as a union together, I would say they are seriously mistaken.
"If we are not careful this will set us back years. It would not only set back the game, it would set back the anti-racist initiative. It would encourage the extremists.''
Meeting
He continued: "They need to articulate what they want. I am trying to reason with them. I had a meeting the other week with the black players. Anton came. Rio needs to be part of that process.
"As I said to Sir Alex Ferguson: 'I've been trying to get Rio around the table to articulate his views.' He just has his Twitter account, and his texting, and I can't get to him. You can't run the world that way. You have to face up to things.
"Jason Roberts is on our management committee. I said: 'Articulate what you want.' 'Oh, we are pulling out of Kick It Out. We want to just do anti-racism within the PFA.'
"But we have to do it with the clubs. We have to go forward together. Otherwise, we will be in a little corner of the football world making a big noise and having no impact.
"They are trying to bite the hand that is helping them. I feel Lord Ouseley (the chairman of Kick It Out) and trustees like Garth Crooks, Paul Elliott and Brendan Batson deserve better.
"Suddenly I've got Herman Ouseley, quite naturally, upset, saying: 'Hang on Gordon, without us, it could be worse.'
Taylor added: "Whatever we do, it isn't right for them. To some extent, they feel the PFA can just snap its fingers and get what it wants but it isn't that easy.
Progress
"We work with all the bodies, work with the supporters. Unless we are all together, how are we going to make progress with the governing bodies on issues like the interview process with the Rooney Rule?
"Unless we work with the clubs, how are we going to roll out equality-awareness courses, not just for youngsters and apprentices, but for all players, coaching staff, managers and directors?''
The concerns of a number of high-profile black players appear to have been sparked by the fact that John Terry only received a four-match ban for racially abusing Anton Ferdinand.
And Taylor acknowledges that there were flaws with the way the matter was handled and revealed he had addressed the issue with Football Association chairman David Bernstein.
"The Terry case shouldn't have taken that long as it did," he said. "I spoke in front of the FA Council saying we needed to do these things more quickly, more efficiently, more transparently.
"That's where the FA can learn. That's what we said to David Bernstein but we need to deal with it together, move forward together.
"Many people are saying it is too soft. A clear message needs to go out that if we are asking Uefa and Fifa to be strong on Serbia - whose fans racially abused Danny Rose - then if it happens in our own backyard we have to show there is no room for it, and the penalties match that.
Asked what ban would have been appropriate, Taylor said: "I wouldn't say it should be 10-game minimum. I don't want to make a rod for my own back.
"But if it has been proved that language has been used, fines are not as effective as missing games."