Arsenal chief executive Ivan Gazidis confident club can compete with world's best 'within two years'
Arsenal will be able to compete with the world's best 'within the next two years', says chief executive Ivan Gazidis.
Last Updated: 25/10/12 4:10pm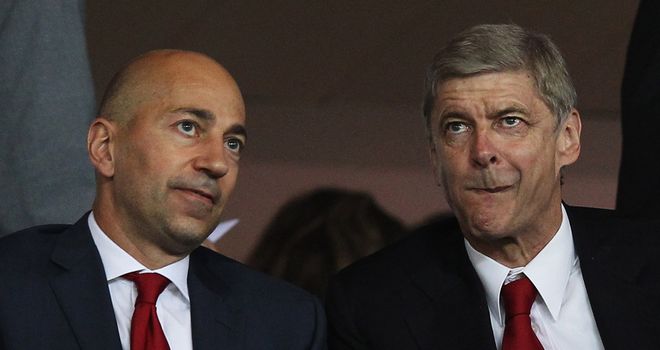 Arsene Wenger's side have come under renewed scrutiny following a defeat at Norwich which leaves them 10 points off the pace in the Premier League and a home loss against Schalke in the Champions League.
The summer sale of star man Robin van Persie exacerbated the frustrations of fans who have not seen their side win any silverware since the 2005 FA Cup but Gazidis believes the club's prudence will pay off when UEFA's Financial Fair Play regulations become more rigorously enforced.
"In the next two years, we will have the financial resources to sit and compete among the leading clubs in the world, which is an extraordinary achievement," he said.
"Financial success is relevant because it supports our football vision... the money we make is made available to our manager and he decides how to invest those funds.
"Arsene has done a magnificent job against the spending of our major competitors."
Flanked by chairman Peter Hill-Wood and majority shareholder Stan Kroenke,
Gazidis added: "Our ambition is shared by everybody at this table, the whole board and by everyone in this room.
"It is all about football, to compete at the top of the game here and in Europe to win trophies and do it in a way which makes fans proud and reflects our values, and also protects Arsenal for the long term."
Gazidis was repeatedly forced to call for order as shareholders continued to question the club's financial policies, with one accusing the board of putting balance sheets before football success.