AC Milan coach Massimiliano Allegri has stated that he will not quit the club
Massimiliano Allegri insists that he will not quit his job, despite the club's current struggles.
By Daniel Storey (@danielstorey85)
Last Updated: 25/10/12 12:45pm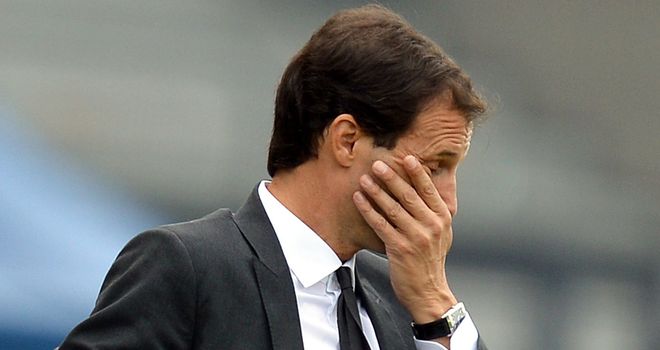 The Rossoneri lost 1-0 at Malaga to sit five points off the top of Group C, but it is their Serie A form that has led to fans calling for the manager's head.
Milan have taken just seven points from eight games, and are already 15 points behind leaders Juventus. The 11-point gap to city rivals Inter is also a huge concern.
Allegri, who was appointed in June 2010, told reporters after the Malaga defeat that he had no intention of leaving his role.
"Leaving? No, this is not part of my character. The team will bounce back after the performance, we've done that in the past and I can be confident," Allegri said.
"Unfortunately we had a lapse of concentration for their goal. I try to give serenity to the group, but we wasted too many balls in the second half.
"Now we just have to focus on winning against Genoa (this Saturday).
"The situation in our Champions League group is positive and we have more need of points in the league."
Veteran midfielder Massimo Ambrosini has agreed with his manager, believing that one victory may be the catalyst for a return to improved form.
"The team needs results and that's what brings enthusiasm and confidence," Ambrosini said.
"That's why we can't make any mistakes on Saturday. If we can get out of this delicate and difficult situation we'll do so having become stronger.
"We all want to get out of it all together and if we do that we'll be able to have a decent season".