Neil Lennon hopeful of keeping £25million-rated Celtic midfielder Victor Wanyama
Neil Lennon has insisted he is under no pressure to sell Victor Wanyama and has criticised the Celtic player's agent.
Last Updated: 26/10/12 6:00pm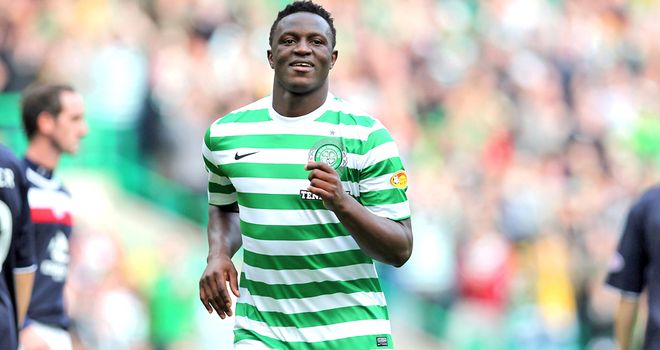 The 21-year-old midfielder signed a four-year deal when he moved from Belgian side Beerschot for a reported £900,000 in 2011 but the Parkhead club, in line with their recent policy of rewarding performances, have offered him new terms.
The Kenyan's representative stated earlier this week that the offer 'fell short of his expectations', but Lennon has no plans to lose a player he values at £25m.
"I don't know (if the value is realistic) but it is what I value him at," said Lennon. "I think he is a wonderful talent and he can only get better.
"If bids come in we are under no pressure to sell which is where we want to be with him at the minute.
"He has the world at his feet but his feet are here and he won't be going anywhere unless we get an out-of-this-world offer and even then, we don't have to sell him because he is on a long-term contract.
"Unfortunately, for some reason, Victor's agent and representative has come out and made public that they have turned down a contract.
"I am not sure Victor has turned it down. He has not spoken to me.
"A month ago he went on record saying how happy he was at the club and I have no reason to disbelieve that."
Lennon added: "I was actually with his representative in Barcelona on Tuesday and had a brief chat and there was no discussion of him having turned down a new contract.
"So this has come out of the blue and I am disappointed that this has come out in public. We don't want to do our negotiations in public.
"We may go back to him again but we have offered him a significant pay rise. We don't have to do that but we feel it is reward for his performances.
"It is credit to the club and the board and I agree with that philosophy of rewarding players for performances."