Kyle Walker is taking a break from Twitter to concentrate on his Spurs performances
Tottenham defender Kyle Walker is taking a break from Twitter to concentrate on his game amid criticism from some fans.
Last Updated: 27/10/12 12:40pm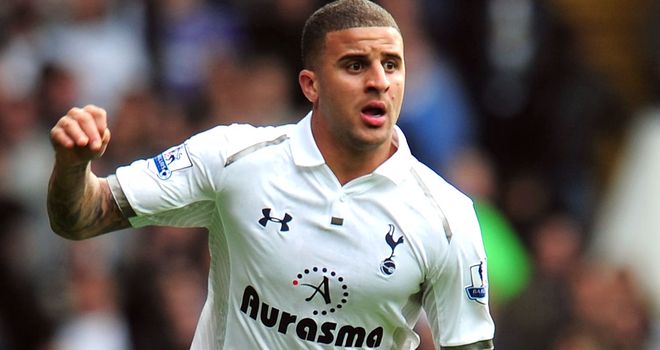 Several followers questioned his work ethic following last weekend's 4-2 defeat by Chelsea.
But the 22-year-old wants to be a role model to children and does not wish to enter into a war of words on the social media site.
He told the Daily Mail: "I told my missus that I was coming off it. I thought I needed to concentrate on my own performances for a few weeks.
"I'll keep working and doing the extra that I need to. Hopefully, my form will come back. I want to concentrate on my football again instead of tweeting.
"I have probably come off at the wrong time. People are saying it's a problem with Spurs' fans - it definitely isn't that.
"When 250,000 people follow you, not everyone is going to be happy. And it's hard to keep everyone happy, so you have to be thick-skinned.
"Genuine supporters have been fully behind me. I appreciate that and I'm thankful for it.
"But some people were just having a bit too much to say. They don't know how much work I'm putting in, not just on match days but throughout the week."
Walker, who is a father himself, added there could be children following his tweets.
He said: "I want to be a role model. So it's difficult what you can tweet. Obviously, though, you don't want to be abused, either.
"So, I'm cautious in what I say. I've chosen my words wisely. When I didn't have anything good to say, I've just come off it."