Newcastle's Fabricio Coloccini is proud to have been compared to Bobby Moore
Newcastle's Fabricio Coloccini admits he was flattered after Alan Pardew compared him to England legend Bobby Moore.
Last Updated: 27/10/12 12:48pm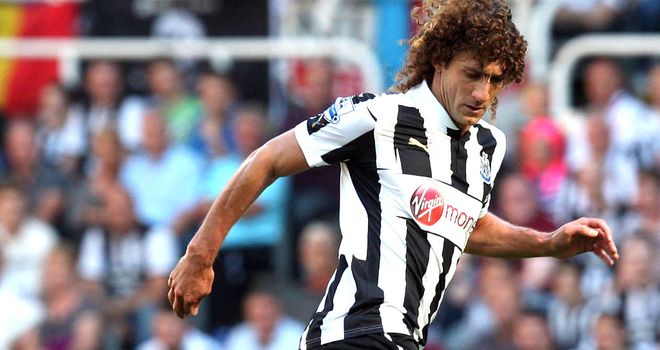 Pardew made the comparison to the World Cup-winning skipper following last weekend's Tyne-Wear derby, when Coloccini contributed a fine display at Sunderland.
The tribute was not lost on the 30-year-old Argentinian, who says he also aspires to be on the same level as former Argentina player Daniel Passarella and his father, Osvaldo, who enjoyed a lengthy career in the Argentinian top-flight.
Coloccini told The Sun: "I'm very proud the manager compared me to Bobby Moore.
"He is an important man in England, so it is very good to hear the manager say that.
"I have to say 'thank you' to the manager for that compliment because Bobby Moore was one of the best players ever to play for England.
"He's famous in Argentina - he's famous all over the world because he is one of the best footballers of all time.
"But it would have been nice for the manager to say 1978 World Cup winner Daniel Passarella! Although, I didn't have only one hero as a kid.
"My biggest hero was my father, Osvaldo, because he played for 16 years in Argentina's first division."
He added: "My aim has always been to get to the level he was at.
"It is maybe easy to get to the first division, but not so easy to stay there for many years like he did.
"I can say I'm better when I have played 16 years at the top like he did."