Tottenham defender William Gallas disagrees with Arsene Wenger over trophies
Tottenham defender William Gallas believes former boss Arsene Wenger is wrong to dismiss the Capital One Cup.
Last Updated: 30/10/12 9:50am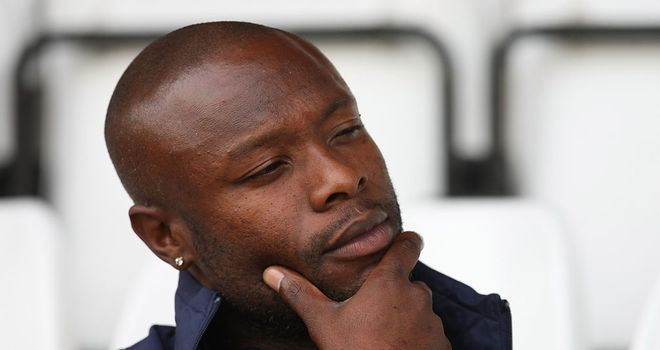 The Arsenal manager claimed last week that winning domestic cups is less important than qualifying for the UEFA Champions League, despite the Gunners going seven years without a trophy.
But as Gallas and his Spurs team-mates prepare for Wednesday's Capital One Cup tie at Norwich, the ex-Arsenal centre-back is adamant trophies are everything to a player.
"For me, a trophy is something you lift at the end of the season and I know it's a fantastic feeling," said Gallas.
"It doesn't happen many times through your career, so for me to finish second or fourth isn't the same as finishing top, as champions. It's completely different.
"You feel different because you are the best team - the best player. You are so happy to lift a trophy - it's the real thing to do.
"It is a long time since Tottenham have lifted a trophy and I don't know which one we are going to lift.
"But for sure we want to lift one - any one will be pretty good so we will wait and see."
Fighting
Tottenham are fighting on several fronts and bounced back from a draw against Maribor and a defeat to Chelsea to beat Southampton and move into the top four of the Premier League.
When asked if Andre Villas-Boas' team can win both domestic Cups as well as finish fourth in the Premier League, the 35-year-old defender said: "Why not? We have to be strong in the heart.
"The manager is a competitor - he is a warrior - he wants to win everything. Every game, we have meetings and it's the same - he wants to win, win, win.
"We will try to win all competitions, but we know it's very difficult because we play so many games and some players are very tired.
"They play for the national team as well, so it's not easy. But when you are professional and you play for a big club you have to be ready for this.
"All the players know what they have to do. If they are tired on the pitch, they use their heads. That means they are very clever and have experience, which is very good for them.
"After our draw in Europe and our loss to Chelsea we had to win at Southampton. The manager talked to us before the game and said we have to try to get back to winning ways.
"We want to finish the season well, so it is very important for us to win - to try to win every game.
"We have to play Norwich next, which will be a difficult game. Then we have Wigan, so we just have to be on top form at home."