Wait is nearly over for Bolton midfielder Stuart Holden as he nears fitness
Bolton midfielder Stuart Holden is a relieved man as he finally nears full fitness after 18 months on the sidelines.
Last Updated: 31/10/12 6:09pm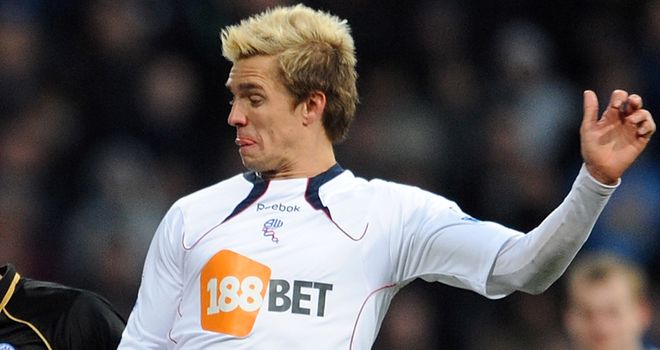 The 27-year-old midfielder admits his knee problems have been the toughest test of his life but feels he can come back stronger than ever.
Holden told The Bolton News: "I can definitely say this has been the hardest thing I have had to do in my life. It has really tested me.
"I think I have come through it with flying colours. I want to be standing there after my first game back knowing that all the work was worth it.
"I've been through some ups and downs in the past year but I can happily say I'm in a great place now and really close to the finish line.
"You know in rehabs you will have days where you feel great and days when you don't want to do anything, thinking the knee will never get strong.
"I think coming through it has made me a better person, mentally and physically, and it feels good to be back.
"I was at the Bristol City game at the Reebok and just to feel the atmosphere again and be back amongst the boys was great.
"I have been working alone and isolated in the US. It allowed me to fully focus and work six hours a day and not have the temptation of wanting to join in with the boys so badly.
"Now that I am back here, I am really focused on fine-tuning and tinkering. Hopefully, I will be back in full training sooner rather than later."
Frustration
It has been a long road back for the United States international and he is determined not to rush the final stages of his rehabilitation after so much frustration.
He added: "I had the operation back in September last year, and since then I have been back and forth between here and the US focusing on my rehab and building my muscle back.
"It had to be done at the right pace; if you push it too fast, too soon, it pretty much erases the whole process.
"I have been doing some shooting and crossing, striking the ball - pretty much everything you would do in a game just not at the same intensity yet.
"It is important I build up to that and that will still take a little time yet. The first team play at such a high tempo and going into that before my knee is ready for it will just cause more delays.
"I'm fully focused on getting back on the pitch as long as the timing is right for both me and my little old knee.
"We have all been working hard for 17 months to get me back fit and we are almost there now."
Upheaval
In the time he has been out it has been a period of upheaval for the Trotters. Last season there was the disappointment of relegation and the devastation of Fabrice Muamba's cardiac arrest.
And earlier this month, manager Owen Coyle left the club to be replaced by Dougie Freedman.
Holden has found looking on from afar a difficult role but is encouraged by what he has seen of Freedman.
"It was so hard being here at times and not being able to be a part of it and help out," added Holden.
"You are a player at the football club but not able to be doing what you were brought in to do.
"The team has been through a tough period. From what I have seen this season, we have been unlucky not to get points where we should have and have had some mixed results.
"But we have a new manager in now and he is looking to bring some new life to the club.
"We have a great group of guys and a talented squad and I really think we have the capabilities to get promoted this season.
"He seems a confident guy and from what I have seen and heard about him, he has a great track record so we are lucky to have him here at Bolton Wanderers."