Petr Cech pleased to see Chelsea prolong Capital One Cup challenge
Petr Cech is delighted to have seen Chelsea move a step closer to silverware after a thrilling encounter with Man Utd.
By Vasek Kadlec
Last Updated: 01/11/12 2:43pm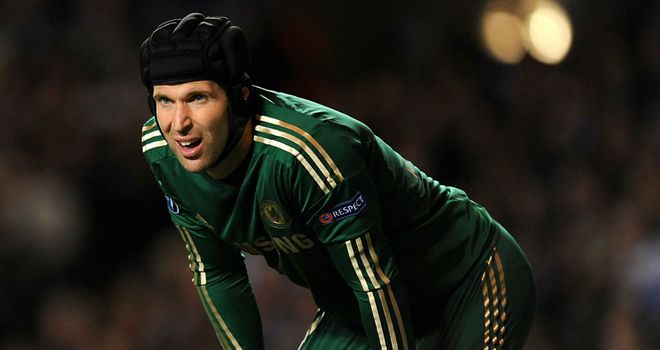 Petr Cech is delighted to have seen Chelsea move a step closer to silverware on Wednesday after a thrilling encounter with Manchester United.
Cech skippered the Blues to a 5-4 success in midweek, with an enthralling contest requiring extra-time to produce a winner.
The Stamford Bridge tie came on the back of a similarly entertaining fixture between the two sides in the Premier League on Sunday - although that meeting ended up making headlines for all of the wrong reasons.
Chelsea are now safely through to the quarter-finals of the Capital One Cup and Cech is setting his sights on adding multiple trophies to his honours board this season.
"I am glad that we have progressed because a lot of good teams have gone out already," he told his official website.
"It would be great to see us in the final in February. It's played at Wembley and games there are always worth being involved in.
"If we could win this competition, then we might have two trophies by the end of February because in December we will play in the Club World Cup."
Credit
Having seen Chelsea and Manchester United spark controversy over the weekend, Cech was pleased to see the latest meeting between two old adversaries produce a 'celebration of football'.
"This was exactly the kind of Chelsea versus Manchester United the whole world wants to see," he said on the cup clash.
"The match on Sunday did not end in the best way due to all of the things that surrounded it, but this was a real celebration of football. All of the players deserve credit for that.
"I am glad that both teams forgot about what happened on Sunday and it was a completely new match.
"There was plenty of quality on show from both sides, mainly in attacking play. There was real drama and nine goals.
"For the spectators it must have been great to watch, but for myself and the managers it was not that great at times."