Rodgers admits Liverpool cannot keep relying on Gerrard and Suarez
Liverpool boss Brendan Rodgers wishes he had not had to call on Steven Gerrard and Luis Suarez to try to save the day.
Last Updated: 01/11/12 4:06pm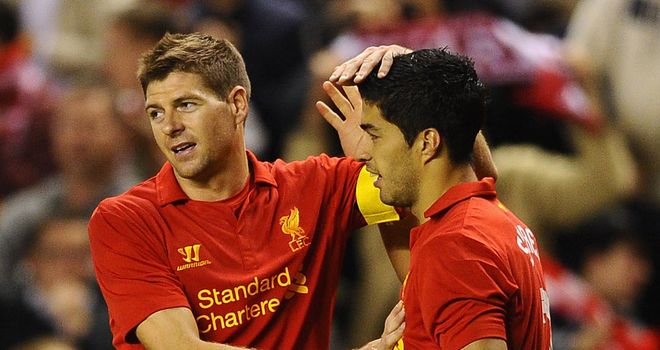 The Reds were eliminated from the Capital One Cup after a 3-1 home defeat to Swansea on Wednesday with Gerrard and Suarez coming off the bench to no avail.
Rodgers admits he would like to have left the pair on the bench but had no choice due to a lack of alternatives at Anfield.
"That is the reality of where the club is at," said the Liverpool boss.
"I would have loved to have kept them on the side to give them a breather but obviously when you need them you need to put them on.
"The problem then is your squad becomes even thinner: I can't keep playing Steven Gerrard and Luis Suarez, who is my only striker.
"That will evolve over time, it is a team thing and we can't rely on two players. Over the next couple of transfer windows we'll get time to build the group."
Bonus
Goalkeeper Brad Jones also acknowledged it reflects badly on the squad players that the manager had to call upon the star names to attempt a rescue act.
"The fact other players were getting a run in the cup was good because we were performing well with players who were not playing regularly in the league and that was a bonus," said Jones.
"A few players came in and got minutes, which was good, but it took us 45 minutes to get going and by that time it was too late as they had a grip on the game.
"In the end it took Stevie and Luis coming on to spark the game up and for the team playing in the cups you don't really want them coming on, you want to do it yourself.
"It is a difficult one. Stevie is an icon for the club and he carries the club sometimes.
"Them coming on just gave us that spark, it made the other players pick up, the tempo was quicker and passing was crisper and we controlled the game better.
"Whether that was through them specifically or whether it was the other players upping it because the manager had basically had a go at us at half-time and sent them on.
"But it was the kick up the backside to let everyone know things weren't going well and we needed to get moving."
Disappointed
Jones has played seven games this season with Pepe Reina struggling for form and fitness and the Australia international was disappointed to come out on the losing side for the first time.
"For me I hate letting goals in and it might take some time to look back on it," he added.
"We were chasing the game and maybe we were a bit naive with the second, pushing on too much too early, and the third goal is irrelevant as it was a cup game and everyone had pushed on.
"The second goal was disappointing because there was enough time left and we were creating chances we didn't need to go that gung-ho trying to get the equaliser.
"We are disappointed as we wanted to progress. The feeling we got last season with going to Wembley and lifting the trophy was a fantastic day. It was something we wanted to replicate.
"Now we have to move on and ensure our league form continues on a higher level."