Reading manager Brian McDermott plays down talk of big-name arrivals
Brian McDermott has insisted he will put his faith in the players already at Reading and not sign big-name players.
Last Updated: 10/11/12 12:42pm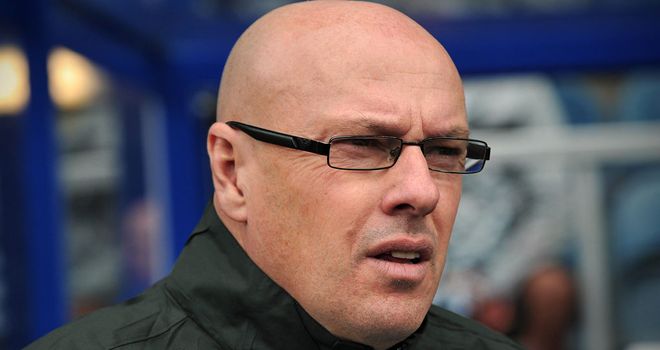 Anton Zingarevich, the club's billionaire owner, was quoted on a Russian website earlier in the week saying he was targeting up to 10 players to improve the Royals squad, which is still searching for its first Premier League win of the season.
But McDermott, who has been in charge at Reading since 2009, is determined to give his current crop a fair crack of the whip in the top flight.
When asked if he was expecting a number of marque arrivals when the transfer window opens McDermott was unequivocal in his response.
"No, no chance. I don't work like that," he said. "We have brought a number of players in for the future and the present in the summer and worked with the budget that we had.
"That would be disrespectful to the players we have here at this moment in time, these players are a great bunch of people.
"They are close, they are competing in each and every game there is no doubt about that."
Zingarevich named Arsenal forward Andrey Arshavin as one of the players he would like to bring to the Madejski Stadium but McDermott refused to be drawn on any specifics.
He said: "I never talk about players we haven't got. We will identify areas we think can be strengthened so I'm sure when January comes we can talk about every new player we want to talk about.
"The league we are in, you can't go and have a coffee without it being in the papers."
Scouting system
McDermott added: "I understand that, it is not a problem to me, it is not a big deal and won't be a big deal to Arsenal - it happens to their players all the time.
"I talk about the group we have now. Every single person at the club, around the training ground, is going in the same direction - I think you can see that.
"We knew it was not going to be easy but I have to say everyone is in a really good place."
Despite being constrained by the transfer windows McDermott revealed his player recruitment drive is active throughout the year.
"Of course it is, we have a scouting system - we are looking, of course we are looking and we will always be looking," he said.
"I was chief scout here so I know how it works, you have constantly got to do that but from a manager's point of view you, have got to focus solely on the Saturday afternoon and that is what we are trying to do now."