Arsenal midfielder Jack Wilshere expects to be at his best by Christmas
Arsenal midfielder Jack Wilshere believes it will be Christmas before he is 'back to his best'.
Last Updated: 23/11/12 10:44pm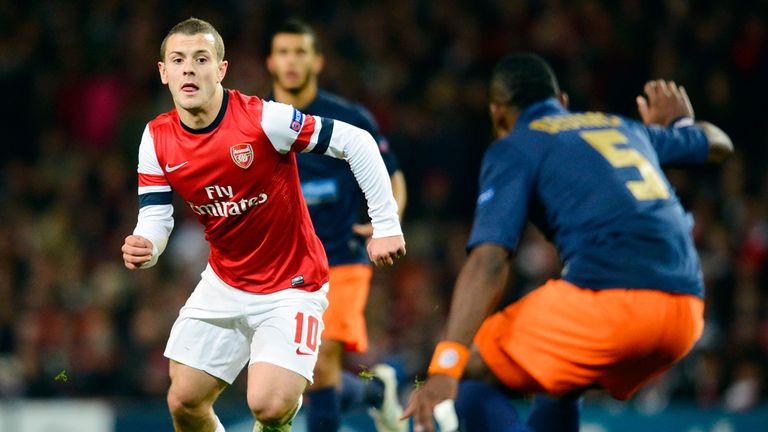 The England international returned from 17 months on the sidelines due to ankle and knee injuries when making his comeback against Queens Park Rangers at the end of October.
He has made a further four appearances for the Gunners and agrees with his manager Arsene Wenger that it will be another month before he is at his optimum level again.
"I had never been injured, so how long it will take for me to come back is hard [to say], but I feel good," Wilshere told Arsenal Player.
"On Wednesday night [against Montpellier] we started the game off sloppily, and I was one of those who kept giving the ball away. That's tough when you come back and start badly in a game. But we've got great players here and they keep you going.
"Percentage-wise, I'm probably 80 to 85. I'm feeling better and better with every game and I think I heard the boss say at Christmas you'll see me back to my best. I think that's probably a reasonable timescale."
The 20-year-old is also grateful to Wenger for showing his faith by starting him in the recent high-profile games against Manchester United and Tottenham Hotspur.
He added: "It doesn't get any tougher than that - Man United away and then Tottenham at home - but they're the games that I want to be involved in.
"That's the Premier League. You're not going to have an easy game in the Premier League, even if you play the so-called lesser teams. They're never easy. The Premier League is known for its intensity and that's the same throughout all the teams.
"The quality might get a bit better and the games might get a bit tougher and you get a few more nerves but the boss showed faith in me. I needed games under my belt and he gave me them, so I'm thankful for that."