David Beckham helps LA to a 3-1 win in MLS Cup final in his final match for Galaxy
David Beckham capped his playing career with Los Angeles Galaxy by winning the MLS Cup in his final game.
Last Updated: 02/12/12 2:39pm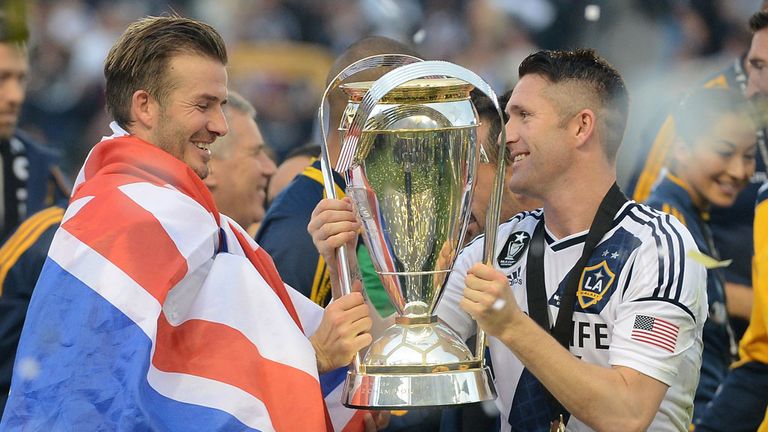 Galaxy - the defending champions - had to fight back from 1-0 down against Houston Dynamo at the Home Depot Centre but Omar Gonzalez equalised and Landon Donovan and Robbie Keane both converted penalties to win the game 3-1.
Beckham was substituted to a standing ovation deep into injury time and after the final whistle the former England captain broke down in tears.
It was the final act of Beckham's time with Los Angeles - on the pitch at least - as he wants to continue his playing career elsewhere.
Calen Carr's goal shortly before the interval gave the Texas team the lead to shock the home fans.
But defender Gonzalez powered home a superb header at the back post on the hour before Donovan converted a penalty five minutes later.
Keane, who had two efforts disallowed, got his reward in injury time when Houston keeper Tally Hall tried to bring him down and the Irishman rose to slot home the penalty and seal victory.
Afterwards Beckham said he still does not know where he will be playing next but he confirmed he plans to maintain his involvement in MLS.
"It's special to get any victory in a cup final, in front of our home fans," he told ESPN.
"It's an amazing day today. I'm sad it's the end - it's been a special place for me and it will continue to be a special place for me."
Asked if he could reveal where he would be playing next he said: "I have no idea - I'm happy that I'm wearing this uniform today and that I have been part of this club for six years. I'm happy that I've been successful with this club for the last four years. I'm very thankful for that.
"I'm going to continue my commitment to this league and this country and my commitment will be the same as it was when I first came here six years ago.
"I might not be playing here anymore but my commitment stays the same to growing this league and growing this sport."