Mohamed Bin Hammam leaves football for good as FIFA imposes another life ban
Former FIFA presidential candidate Mohamed Bin Hammam has again been banned from all football activities for life.
Last Updated: 17/12/12 5:27pm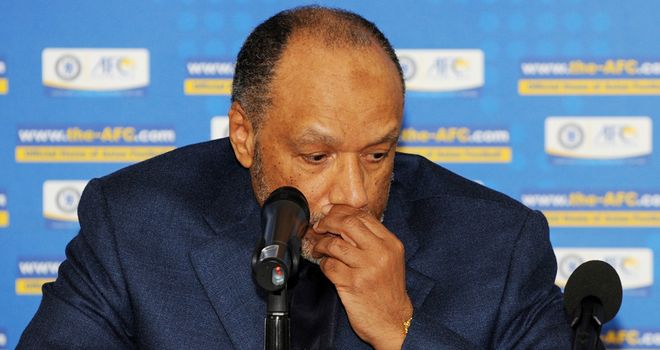 The one-time head of the Asian Football Confederation has fought a long battle against what he calls "trumped-up" allegations of corruption during his time in that role and as a FIFA executive committee member.
Bin Hammam had a first lifetime ban overturned by the Court of Arbitration for Sport in July but remained suspended pending further FIFA investigations into his activities.
The organisation could find no evidence that the Qatari sought to bribe officials for votes during the 2011 presidential election, but investigator Michael J Garcia returned a harsher verdict on "conflicts of interest" while Bin Hammam was AFC boss.
The 63-year-old resigned his positions before the findings were made public, but FIFA decided to ban him anyway.
A statement read: "Mr Mohamed Bin Hammam, FIFA executive committee member and AFC president, has resigned from all his positions in football with immediate effect and will never be active in organised football again.
"In view of the fact that under the new FIFA code of ethics, the FIFA ethics committee remains competent to render a decision even if a person resigns, the adjudicatory chamber decided to ban Mohamed Bin Hammam from all football-related activity for life.
"This life ban is based on the final report of Michael J Garcia, chairman of the investigatory chamber of the FIFA ethics committee.
"That report showed repeated violations of Article 19 (conflict of interest) of the FIFA code of ethics, edition 2012, of Mohamed Bin Hammam during his terms as AFC president and as member of the FIFA executive committee in the years 2008 to 2011, which justified a lifelong ban."
Announcing his resignation earlier, Bin Hammam said in a statement: "I do not want to spend any more of my life fighting trumped up allegations and to focus instead on my family and businesses.
"However, if further allegations are made I will, of course, defend myself in the same way that I did in the past."
Don't miss any live and exclusive football coverage this festive season. Click here to visit Sky Sports' Festive Calendar