Arsenal boss Arsene Wenger urges Theo Walcott to sign new contract at Emirates
Arsenal boss Arsene Wenger reckons Theo Walcott owes it to the club to sign a new deal.
Last Updated: 21/12/12 2:14pm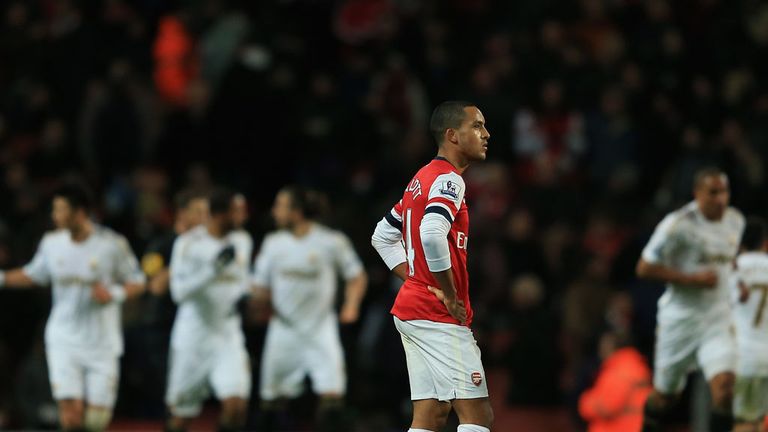 Walcott is currently in negotiations over an extension to a contract that expires in the summer, with wages and reassurances over his role in the first-team understood to be points of contention.
The England international is determined to prove himself in the central striker's role, from where he scored the final goal in a 5-2 win at Reading on Monday, while his representatives are thought to be pushing for a package of up to £100,000 a week.
But after taking what he described as a "gamble" by signing the player as a 16-year-old in 2006 for £12m, Wenger wants to see his faith repaid.
"What is important to keep the young players together is that at some stage I have stood up for them; I played you at 17, 18, 19 years of age and I know I took a gamble," Wenger said.
"It is easier to take a player of 25 and put him in the team. You know what you are getting.
"If you put them in at 17 or 18, you have to stand up for them. You risk losing games while they are learning their job. Once you have produced them you want to say, 'Okay, let's stay together and win together.'
"Somewhere along the line they need to give back to the club what the club has given to them.
"When a guy gets to 30, you can understand it is his last contract and if he feels he wants a change. This is a more sensitive age, but basically, it is a reward for our policy."
Wenger revealed the Arsenal board could be prepared to stretch their wage structure to reach an agreement but warned that the club would not be held to ransom.
He added: "I am happy to pay Theo the money he deserves, but I feel as well that I bought him at 16 years of age and spent a lot of money on him.
"I am a big supporter and I believe he is happy here. Theo has always looked to me like he is an Arsenal man."
Don't miss any live and exclusive football coverage this festive season. Click here to visit Sky Sports' Festive Calendar