Liverpool have no interest in signing Inter Milan ace Wesley Sneijder
Sky Sports understands that Liverpool have no interest in Dutch star Wesley Sneijder.
By Graeme Bailey - Tweet me: @graemebailey
Last Updated: 13/01/13 9:07pm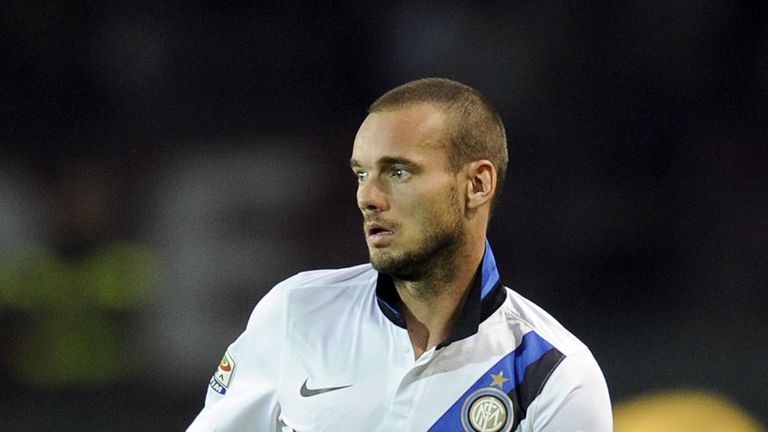 Sneijder is set to leave Inter Milan, who wanted the Dutchman to take a pay cut before playing for them again.
Turkish giants Galatasaray have agreed a deal with Inter and are in talks with the player, but Liverpool have been strongly linked with a move for the 28-year-old.
However, Sky Sports sources understand there is 'absolutely no interest' in the playmaker.
But Ayre has told Sky Sports that they are working on a number of targets: "It is about who Brendan has got his designs on. What he wants, we will always say the same thing, if we find the right deals for the right players we will get it done.
"Everyone who operates in January knows it is always a difficult window, but we will do what we can. We have got targets in sight and if we can resolve those great, if not then we will move onto summer and do what we need to do.
"We have got the right team behind this, right amount of effort and right level of investment and it is about getting the right deal that fits. That is the most important thing, lots of teams including Liverpool have seen some deals done in haste, or at the wrong time and we are not going to let that happen and we are going to manage that efficiently and properly and get the best we can get."
Ayre insists that money is not an issue for the club.
"We don't have any issues with finances, it is about doing what is best in the long-term interests of the football club, always," he stressed.
"With the advent of financial fair play it means everyone should be running the club prudently and that does not mean not investing but investing wisely and at the right time, and we will always do that."
Ayre also spoke about Steven Gerrard's recent comments, when he stressed that the club cannot just buy young players - and the Liverpool chief agreed wholeheartedly.
"I thought Steven's comment and the journalism around it were first class - there is no policy at this club of only signing young players, that is a myth," he said.
"If you look at our squad in terms of what a squad should look like we have an ideal mix, our two most senior players have spent their entire career with their local club - we have got three or four young players that are breaking into the first team through our academy system, and then we have renowned international players like Luis Suarez and Glen Johnson we have brought in, and like Steven says, senior players have a part to play - we certainly would not exclude anyone from our thinking."