Rafa Benitez casts doubt on claims Petr Cech thinks Frank Lampard could stay at Chelsea
Rafa Benitez has questioned whether Chelsea keeper Petr Cech has suggested that Frank Lampard will stay with the club.
Last Updated: 15/01/13 3:53pm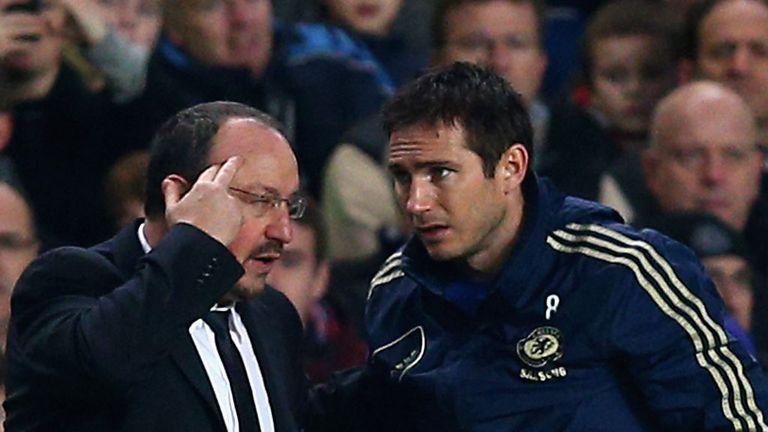 With the Stamford Bridge hierarchy seemingly reluctant to offer the 34-year-old a new contract, it would appear that the England international is set to leave the club this summer.
However Lampard's current rich vein of form, with five goals in his last seven appearances, led Cech to recently say: "There are still six months to go until the end of the season so we will see whether he stays or not."
Benitez accepts that Lampard is playing well, but queried the meaning of Cech's words.
"We know Frank is doing well in training and is playing well. Everyone can see he is doing well and the rest of the team is doing well at the same time," said Benitez.
"Maybe that was what Petr was trying to say - Frank can play at a good level and hopefully he can continue until the end of the season.
"I have to bring the best out of him and I'd be delighted if he scores 15 goals from now until the end of the season. I have to keep him fit."
Space
Chelsea face Southampton at home on Wednesday night, and having failed to score in their last two outings at Stamford Bridge, Benitez admits his side need to improve to fend off the kind of criticism they have faced from the Stamford Bridge faithful of late.
"We are doing well away but at home other teams play deep and wait and there's less space," he said.
"We are still creating chances but the main thing is to be more clinical. If we take our chances it will be totally different because the teams we play will be more open and we will have the space we're looking for."
"But if that's not the case, as in the last two games, it is more difficult. The last two games were more difficult because they had 11 players behind the ball and we have to find a way to overcome that."