Harry Redknapp insists Loic Remy deal is 'good value' for Queens Park Rangers
Harry Redknapp has defended QPR's £8m outlay on Loic Remy and said money was not the motivation for the striker.
Last Updated: 18/01/13 12:36pm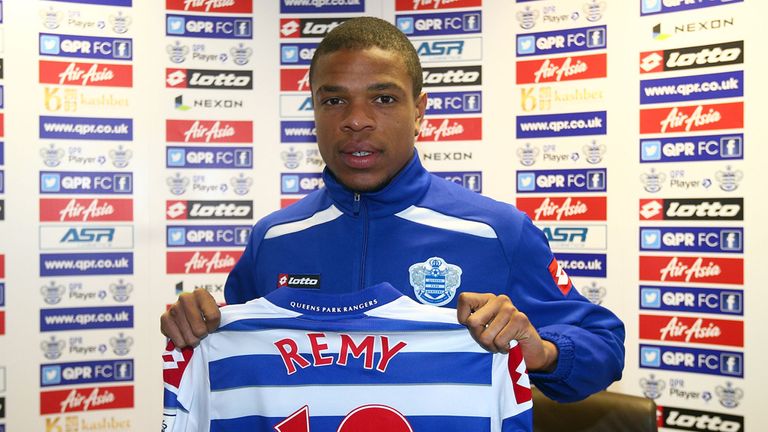 France international Remy joined the Premier League's bottom-placed side on Wednesday for a club-record £8m, just three days after his Marseille club had agreed a deal with Newcastle.
Rangers are understood to be paying the 26-year-old wages of more of £70,000 a week but Redknapp said motives for player and club were sound.
"This is a good deal for the club," Redknapp said at a press conference to officially unveil Remy.
"It's a big signing, a big transfer fee for this club but if you look around the Premier League, you see this sort of money being spent almost every week. I think we've got real good value. The price is good for a player of that quality.
"I don't think the club has spent a lot of money. Under Mark (Hughes) players came in on free transfers and were paid decent wages but I don't think you'll find the club has spent a lot on transfers."
Remy had met with Newcastle chiefs before his U-turn but Redknapp said he believed his history with the player, as well as assurances over his role in the side, were deciding factors.
"I spent four hours with him last season when we were looking to take him at Tottenham," the former White Hart Lane boss added. "We got on great so I thought we had a head start. He wanted to come to London.
"I said to him that I wanted him to play through the middle, whereas I think he felt he might have been playing in a wide position had he gone elsewhere."
Remy himself said: "The finance doesn't come into it at all because Newcastle offered me a very good contract as well.
"I've seen that a lot of people are surprised I came to QPR and say that I came here for money, but my decision was no way based on financial reasons.
"QPR were very open, they wanted me and it's great to be here. Firstly, I already knew the coach Harry Redknapp and secondly, I'm very excited by the project QPR have here for the future."