Eboue Q&A
Ahead of the Africa Cup of Nations, Emmanuel Eboue gives his thoughts on the tournament and assesses Ivory Coast's rivals for victory
Last Updated: 19/01/13 1:53pm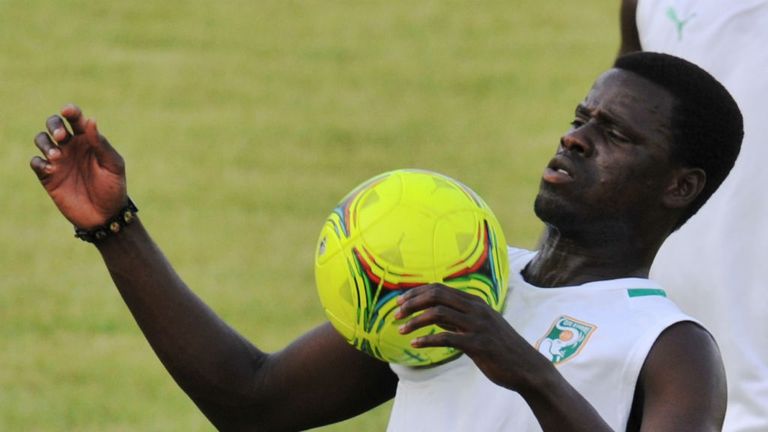 Ivory Coast on Tuesday begin their Africa Cup of Nations campaign when they take on Togo in South Africa.
As always, the Elephants are among the favourites to win the competition but, having lost 2012's final in a shock penalty shoot-out defeat by Zambia, they also have a reputation as perennial underachievers.
Emmanuel Eboue and his squad-mates will be determined to shed that tag when they get their campaign under way and, here, the former Arsenal defender discusses the tournament and assesses Ivory Coast's chances.
Who works the hardest in the Ivory Coast team?
Everybody in our team really works hard. But when you watch Kolo Toure in training, it is really impressive. He is like a lion, who wants to kill his opponent and I enjoy training with him a lot.
When you come back to the Ivory Coast team, do you feel like you are coming home?
Yes, absolutely. When I am with the team, it really reminds me of a family, because everybody is happy and cheerful. I am not quite sure where this constant happiness comes from but I enjoy being with the guys, because the atmosphere is so joyful. Ahead of the matches or training camps, I am always looking forward to meeting the other players and I hate leaving them after spending so much time with them.
What do you feel your chances are this year?
Some people always think it should be easy for us to win this tournament, because we have a lot of strong individual players but it really is not just about that. Especially because of the fact we have so many players in the European Leagues, many other teams are extra motivated to play against us and they often play really hard. But we are well prepared and very ambitious, so I think we have the chance to go far again this year.
How would you describe the African fans?
Our fans in Africa are very different to the fans in Europe. My impression in Europe is always that the audience in Europe knows a lot about football, they really concentrate on the match and follow it in detail. In Africa, it is a whole different atmosphere. It is more like a party. The fans get so excited when their own team wins, they sing, they celebrate, they jump around. It is just amazing and it cannot be compared to anything else. The fans are so joyful and unbelievably happy.
Who are the players you feel closest to in the camp?
The whole team feels like a family to me. But when we have to share hotel rooms, Yaya Toure is always my room-mate. We performed together in the national team since 2002, which is more than 10 years by now, and we have built a great bond, so we are always together a lot.
Can you describe a day at camp?
When we are together in camp, it is all about playing football. We train a lot, several times a day. In between we have nice and healthy food. During the breaks, my team-mates and I mainly watch TV or sleep. It is always an intense time but I love it.
Which team in the tournament do you have most respect for?
We are not scared of any teams but of course we respect all of them. If they were not good, they would not have qualified for the tournament. But the great thing about football is that it is unpredictable, you never know who is going to win. Only God knows that.
To hear more from Emmanuel Eboue, Ivory Coast and other players and teams who will feature in the 2013 Africa Cup of Nations go to www.puma.com/africanfootball