Football fans come together to protest at ever-increasing admission pricdes
A group of football supporters is joining forces to protest at the high admission prices for travelling supporters.
Last Updated: 24/01/13 6:54pm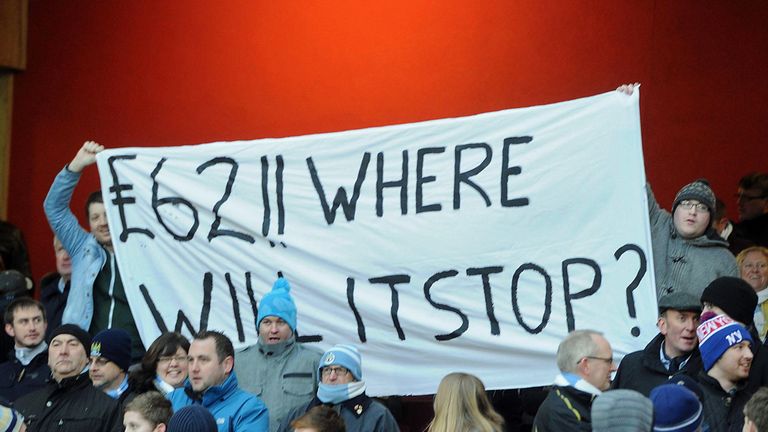 The Football Supporters' Federation is keen to see the price of away tickets set at a maximum of £20 to make it more affordable for travelling fans.
The group is holding a series of events as part of the Score Campaign: 'Twenty's Plenty for Away Tickets'.
Earlier this month Manchester City fans protested at paying £62 to see their side take on Arsenal at the Emirates.
Around 900 tickets were returned to the Premier League champions adding weight to the FSF's case.
The Metropolitan Police helped Arsenal's stewards remove a banner declaring '£62, where will it stop', claiming their actions were necessary to prevent a breach of the peace as fans had refused to take it down.
"Those who follow their team away are the distilled essence of the football fan - the hardcore," said FSF deputy chairman Martin O'Hara.
"Without away fans the atmosphere at games dies and football loses a large part of what makes it so special.
"Travelling supporters spend the most time and money on their team and that deserves recognition and reward.
"In the short term clubs might make a few extra quid by squeezing away fans dry but long-term vision is required."
Through a series of meetings to be held nationwide, the FSF hopes to persuade fans of all clubs to speak with one voice on the issue.
"We believe an away ticket price cap of £20 would make football more affordable and halt the decline in away fan attendances. The Score Campaign aims to make this a reality."
Last year the FSF carried out a National Fans' Survey of over 4,000 fans in which 92.2% of them said ticket prices were too high.