UEFA reveals that Euro 2020 will be co-hosted by 13 different countries
UEFA have confirmed that Euro 2020 will be staged in 13 different countries in a key change to the tournament's format.
Last Updated: 25/01/13 4:19pm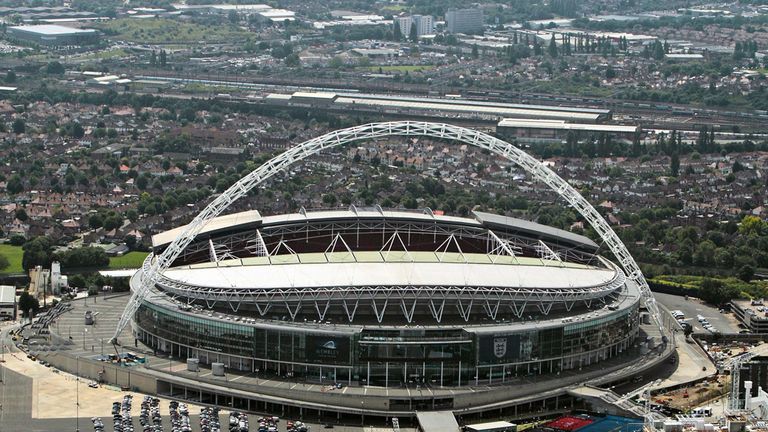 Countries have co-hosted the event in the past, with Poland and Ukraine sharing last year's event, while Belgium and the Netherlands combined forces in 2000.
But European football's governing body has now confirmed how many countries will be involved, while also revealing that only one venue will be used from each host nation.
Wembley Stadium could stage the closing stages of the tournament, although rival bids from Rome, Berlin, Madrid and Istanbul are also expected to be entered.
The FA will also bid for group matches and quarter-finals if Wembley's attempt to host the final is unsuccessful, with Cardiff, Dublin and Glasgow also expected to try and host group matches at Euro 2020.
Istanbul has emerged as the favourite, but only if it loses its bid for the 2020 Olympics, with UEFA president Michel Platini reiterating he would back the Turkish city.
"That would be my vote, but if they get the Olympic Games it's out of the question that they could stage the Euros or a match," he said.
UEFA appears keen to encourage smaller nations to bid for games though, with two host cities with a stadium capacity as low as 30,000 expected to be involved.
A further 10 stadiums will have a 50,000 minimum capacity and four of those hosting the quarter-finals must have grounds of at least 60,000, while the stadium that hosts the two semi-finals and final must have a capacity of at least 70,000.
Host countries will not qualify automatically but if they do make it to the finals, their national team will be guaranteed to play at least two of the three group matches at home.
"The matches of the Euro will be split into 13 packages - 12 cities who will have three group stage matches and one knock-out round match and one city will host the two semi-finals and final," UEFA general secretary Gianni Infantino told a news conference in Nyon, Switzerland.
"There will be only one venue per country, and it means the semi-finals and final will be played in the same venue."
The bidding requirements will be decided at a meeting of UEFA's executive committee on 28 March, with the list of successful cities due to be taken in September 2014.
Meanwhile, UEFA also confirmed the 10 venues for Euro 2016, with Bordeaux, Lens, Lille, Lyon, Marseille, Nice, Paris, Saint-Denis (Stade de France), Saint-Etienne and Toulouse making the cut.