Arsenal striker Theo Walcott keen to shine for England
Arsenal striker Theo Walcott has expressed his determination to reignite his England career.
Last Updated: 04/02/13 6:43pm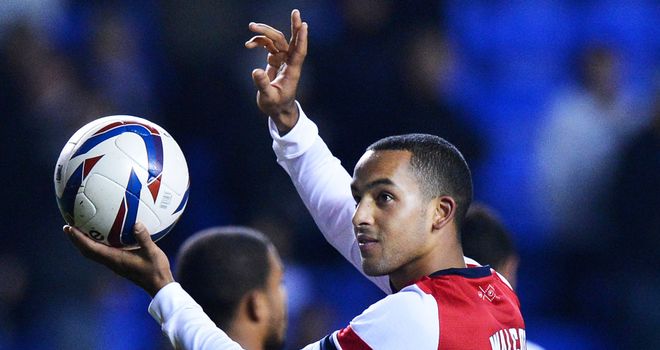 The 23-year-old has been in impressive form for the Gunners and is the leading scorer with 18 goals.
But with England set to play Brazil on Wednesday in their first game of the year, Walcott wants to become a regular member of the side under manager Roy Hodgson and would love to be involved at Wembley.
The withdrawals of Jermain Defoe and Daniel Sturridge through injury could even present an opportunity in the central striking role he craves for at Arsenal.
"I have been happy with the last couple of seasons but this one has stood out," Walcott said. "At the start of the season, I wasn't playing at all but I felt I reacted in the right way.
"Hopefully I have proved something to the manager Arsene Wenger and he can believe in me like I believe in him. Now the next step is to get my England career where it should be.
"We have a young squad that is eager to do well. You want to be playing from the start."
Walcott is just happy to be in the squad, though, and says it would not be too big a blow to miss out on a starting spot against the five-time World Cup winners.
"If you get a chance coming off the bench, it is the way you make your mark. I want to give the manager a headache," Walcott added.
"I have had limited opportunities and every time I have come away with England I have managed to get injured, which has set me back slightly.
"But I am only 23. I have four goals and 30 caps. Not many people get 30 caps at my age. I am very pleased with the way things are going.
"It is a slow process but, if I can get my club form going with England, I will be on top of my game. I will play anywhere for England.
"Things are going quite well for Arsenal on the right but Daniel and Jermain are both out so there is an opportunity with England. That is the manager's choice. I trained up front today with Wayne Rooney so you never know.
"I will play anywhere for England and Arsenal but I do believe I'm a striker and I'm sure in the next few years I'll be playing a bit more regularly."