Ronaldinho admits he didn't expect recall to Brazil national team
Ronaldinho admits he didn't expect a recall to the Brazil national team.
Last Updated: 05/02/13 7:45pm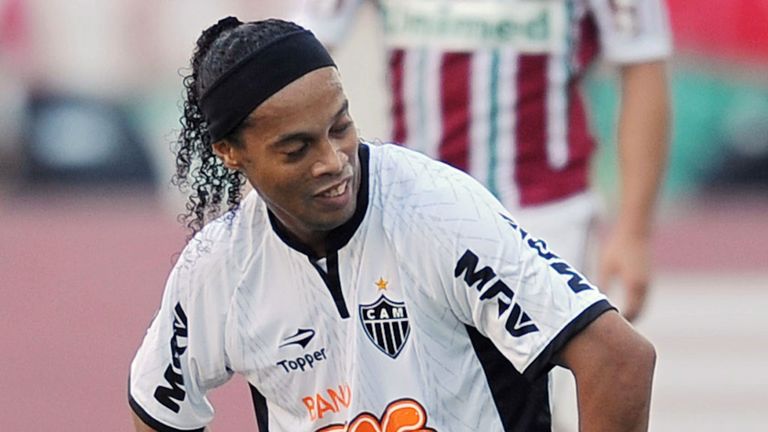 After a year in the international wilderness, the 32-year-old, reinvigorated by a spell with Atletico Mineiro, has been recalled by the Selecao for tomorrow's friendly against England.
Ronaldinho may not be the same player that was twice crowned the world's best, but feels he still has something to offer in the famous yellow jersey - something he is surprised to be wearing once more.
"It had not been in my plans," the attacking midfielder said, speaking at Wembley on Tuesday afternoon.
"I had a very good season last year so I was hoping it would happen to a certain extent. I am very glad it has come true now.
"My style remains the same. I play the same way I played before.
"It gives me great pleasure to return to Europe, having played here for such a long time. It is a great pleasure to be back."
Tomorrow not only marks Ronaldinho's return but also manager Luiz Felipe Scolari's.
The former Chelsea boss led Brazil to World Cup glory in 2002 and is charged with the same feat next year, although this time on home turf.
"There is great pedigree amongst our team," Ronaldinho, a key part of that victorious side 11 years ago, said.
"I think we have all the possibilities to win the World Cup.
"We have a mix of young players and experienced players. I am the most experienced player in this team so I will do everything to help my team to win this big aim, which is the World Cup."
Ronaldinho heads up the old guard, but it is Neymar with the weight of a nation's expectations on his shoulders.
The Santos forward is the golden boy of Brazilian football and one which Ronaldinho believes can be the best.
"He is definitely amongst the best in the world," he said.
"It is a great pleasure to play at his side and I am sure he will be the best pretty soon.
"Football is very quick. Everything happens very quickly and nowadays there is Leo Messi, Cristiano Ronaldo.
"Neymar is still a very young player but we all have a lot of confidence that pretty soon he is going to be the best in the world."
Ronaldinho was joined at Wembley on Tuesday by another recalled old boy, Julio Cesar.
The 33-year-old has impressed since joining QPR and is one of four Premier League-based players in the squad, along with Chelsea trio David Luiz, Ramires and Oscar.
"I still have a contract here in the Premier League for four years and I am very glad to be here," Cesar said.
"I benefit a lot from playing here and I will try to benefit from that for the Brazilian national team.
"I am also glad for the Brazilian players at Chelsea and we look forward to the World Cup."