Brazil star Neymar claims Wayne Rooney is England's only match-winner
Brazil superstar Neymar does not expect England to challenge for World Cup glory as they only have one match-winner.
Last Updated: 06/02/13 6:08pm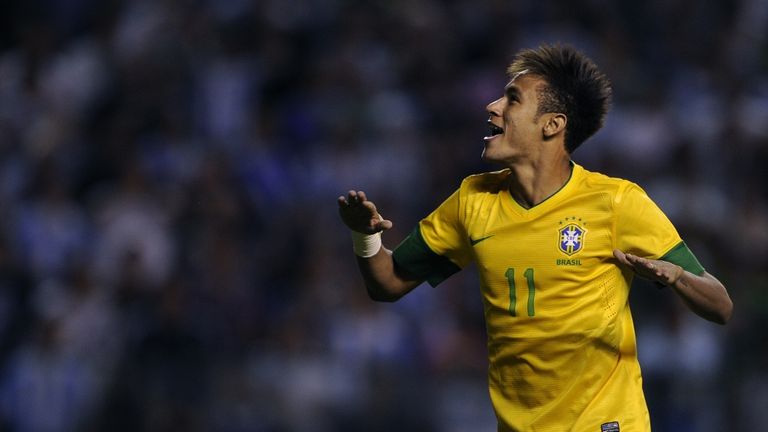 Wayne Rooney is considered by the Samba striker to be the one dangerman within the Three Lions' ranks.
England will get an opportunity to prove Neymar wrong during a friendly date at Wembley on Wednesday, but the highly-rated Santos forward feels Brazil will need to be more concerned about other nations when world football's showpiece event returns to South America in 2014.
"England are a good team with some very good player, but I don't look at them as one of our main rivals for the World Cup," he said.
"Maybe they rely too much on Rooney, once you look past him you don't see an obvious player who can win them a match. But Brazil have got many players who can.
"England have players to do well, but do I think they have the same quality as Spain and Argentina? No.
"Look at Argentina. If (Lionel) Messi is not having a great game they still have (Sergio) Aguero and (Carlos) Tevez.
"And with Spain, if (Andres) Iniesta is having an off day, they have got Xavi and (David) Villa."
Future
It has been suggested that Neymar will be offered the opportunity to play his club football in England in the not too distant future, with Manchester giants City and United, along with Chelsea, leading the chase for his signature.
Real Madrid and Barcelona have also been tracking the 21-year-old for some time, but Neymar insists he has taken no decision as to what the future will hold.
He added: "A lot of things have been written about my future but they cannot be true because no decision has been made.
"I'm happy at Santos now and I'm not even thinking about leaving.
"When the time comes I'll consider all offers from the big European clubs but talk I have already committed is wrong.
"It's nice when I hear top players saying I'll be the world's best player and I've got the talent. But it's important to stay humble so I need to carry on working hard and learning."