Roberto Mancini: Manchester City the best team in the Premier League
Roberto Mancini believes Manchester City are stronger than both of their title rivals Manchester United and Chelsea.
Last Updated: 09/02/13 4:54pm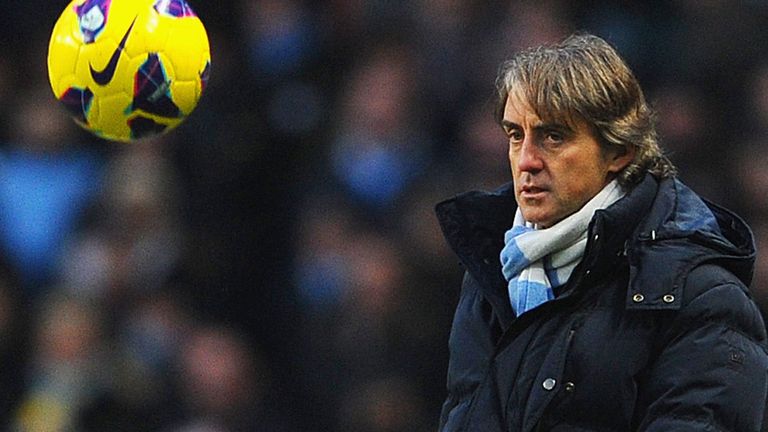 Speaking ahead of Saturday's trip to Southampton, the City boss said his own side have been England's top team for the past 18 to 24 months.
The Italian said: "I don't think in these last two years there is a team that has played better than us.
"Manchester United is a strong team, Chelsea is a strong team but I think in the last two years Manchester City is the team that has played better in the Premier League.
"We are a strong team. We have been unlucky because we lost two or three players in January for the African Cup.
"Yaya (Toure) is an important player for us. When he doesn't play he is important. We've missed him a lot in these last 20 days."
As for United's commitments in Europe, he added: "When you play in the Champions League against Real Madrid you can lose your strength in this game.
"So we support Manchester United to go through in the Champions League."
With regards to staying on as manager at the Etihad Stadium next season, when asked at Friday's pre-match press conference he answered quickly: "Yes, yes. Why not?"
City will check defender Vincent Kompany after training on Friday before deciding whether he can feature at Southampton.
Kompany has been sidelined by a calf injury that was expected to keep him out until after next week's FA Cup fifth-round tie with Leeds.
However, the Blues skipper returned to training on Wednesday and could be available at St Mary's.
"We are optimistic," said Mancini. "He trained yesterday, and two days ago. After today we will decide."
Mancini also confirmed Yaya and Kolo Toure will be available after Ivory Coast's earlier-than-expected exit from the Africa Cup of Nations.
"I am sorry because they didn't win but I am happy because they are here," said the Italian.