Cristiano Ronaldo set sights on becoming Real Madrid's all-time record goalscorer
Cristiano Ronaldo wants to become Real Madrid's all-time record goalscorer after moving to joint sixth over the weekend.
Last Updated: 12/02/13 12:02pm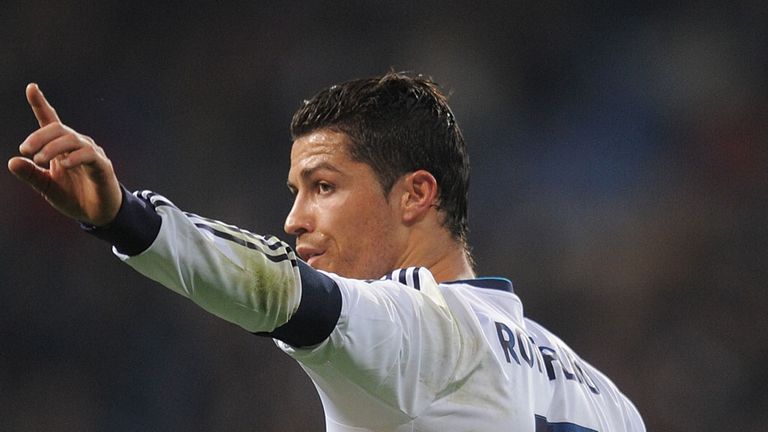 The Portugal international took his tally of hat-tricks for Madrid to an incredible 20 in the 4-1 win and continued his phenomenal scoring form for the Spanish giants.
Ronaldo has netted 182 goals in just 179 official matches for Madrid since his world-record £80million move from Manchester United in 2009, moving him level with Gento on the club's all-time list.
Next in the firing line for the 28-year-old is Hugo Sanchez (208 goals) followed by Ferenc Puskas (242), Carlos Santillana (290) and Alfredo Di Stefano (308).
Top of the list is Raul, who scored 323 times in 741 matches before leaving Madrid in 2010, and it is that tally that Ronaldo is eyeing.
He told his club's website: "It's an honour to be one of these legendary scorers and to be one of the top-scorers. To make this list in the short time I've been with the club, to see my name associated with these players is a reason to be proud, motivated and happy.
"I've always said that records are made to be broken, not just by myself but by the next generation of players.
"I'm happy to have beaten these records and I'm happy to have reached these numbers. What I want more than anything is to keep on going and try for first place."
That suggests Ronaldo sees his long-term future at the club, something that has been a matter of debate in recent months.
Emilio Butragueno, who is eighth on the list with 171 goals and is now a director at the club, certainly hopes the Portuguese ace remains at the Bernabeu for many years to come.
He said: "Cristiano Ronaldo is amazing. We're extremely proud that he plays for Real. His ambition is perhaps one of his greatest virtues. He wants to get better and he takes each game as if it's a personal challenge.
"Having a player that guarantees a goal per game is a problem for rivals because it means that they have to score two to win. Very few teams throughout history can claim the same.
"I hope he stays that way for years because he's very important to us."
To find out more about live football on Sky Sports, Click here