Swansea's Michu thrilled by first medal in Capital One Cup at Wembley
Michu was a proud man after winning the first medal of his career with Swansea's 5-0 demolition of Bradford at Wembley.
Last Updated: 24/02/13 7:35pm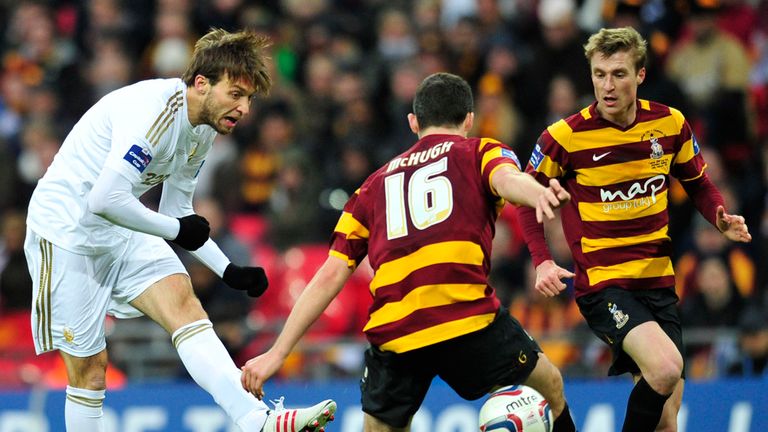 The Spaniard has been a massive hit in his first season in English football, scoring 19 goals, including one in their Wembley triumph, the first cup victory in the club's long history.
"A good position in the league and now the first title in my career and with this performance...it's been a good day," he said.
"It was a massive game, 90,000 people at Wembley, but with this performance from this team - I think we deserved it."
Michu, who joined Swansea for just £2million in the summer from Rayo Vallecano, admitted his most important goal was probably in the 2-0 win at Chelsea in the first leg of the semi-final.
"It was maybe the most important of the season. It gave us this possibility to take this title," he said.
"It's been a great season for me and the team, my first season in English football.
"It's great for the club, the first trophy in its history and now we are going to play in the Europa League.
"I know it's a small team but it's like a family. We can lose, we can win but we try to play well all the time."